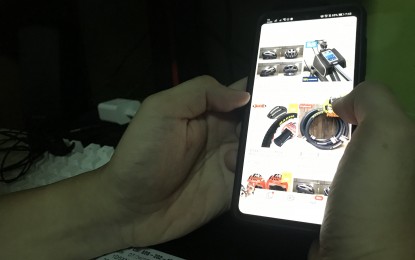 MANILA – The Intellectual Property Office of the Philippines (IPOPHL) has signed a memorandum of understanding (MOU) with the biggest e-commerce platforms in the country and intellectual property rights holders for speedy removal of fake products on online shopping sites.
IPOPHL signed the agreement with Lazada and Shopee on Monday to build a stronger industry-wide coordination mechanism against rising online counterfeiting and piracy.
Brand owners such as Unilever Philippines, Inc., GlaxoSmithKline Consumer Healthcare Philippines, Inc., GlaxoSmithKline Philippines, Inc., Globe Telecom, Inc., Castrol Ltd., and Solar Pictures, Inc., as well as business groups Philippine Retailers Association and American Chamber of Commerce of the Philippines also signed the MOU.
"Before, we used to experience delays especially on complaints on counterfeits and piracy. But with this MOU, we hope that there will be easier coordination and faster action on the part of platform owners to act on complaints of counterfeiting, not only coming from brand owners but especially from the IPOPHL and DTI (Department of Trade and Industry)," IPOPHL director general Rowel Barba said in an online press conference following the ceremonial MOU signing.
Barba added the agreement provides a self-policing measure that will help in cleaning up the marketplace from bogus products online.
Under the MOU, industry players agreed to use the notice and takedown (NTD) system, wherein rights owners can use the NTD procedures to remove contents on the e-commerce sites that have copyright infringement and other intellectual property violations.
It also drafted a feedback mechanism between e-commerce platforms and rights owners.
"With harmonized procedures and deeper ties with platforms, intellectual property rights holders are better able to notify e-commerce and request for swift actions necessary to prevent counterfeiters and copyright pirates from making a sale," Barba added.
He said with the massive shift to e-commerce last year due to the pandemic, IPOPHL received the highest number of reports and complaints on intellectual property rights violations done online.
The Intellectual Property Rights Enforcement Office received some 121 reports and complaints last year, apart from over 20,000 complaints at DTI-Fair Trade Enforcement Bureau, he said.
Barba said this initiative also aims to keep the Philippines out of the piracy watchlist that will give confidence to investors to bring in their brands and technology to the Philippines without the fear of their intellectual property rights being violated.
The MOU is an outcome of IPOPHL's collaboration with the British Embassy in Manila under the UK Prosperity Fund Asean Economic Reform Programme.
In the same event, British Ambassador Daniel Pruce highlighted the need to protect intellectual property rights.
"Intellectual property protection is critical -- it's critical to encourage innovation," Pruce said. "So we need to build confidence in online transactions by creating a safe and reliable digital ecosystem which is beneficial for all online players in the marketplace." (PNA)