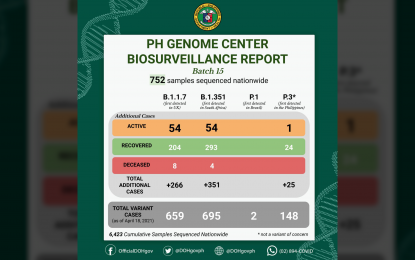 MANILA – The Department of Health (DOH) on Monday reported additional cases of coronavirus disease 2019 (Covid-19) infections from variants of the severe acute respiratory syndrome coronavirus 2 (SARS-CoV-2), the virus that causes Covid-19.
"The DOH, UP-PGC (University of the Philippines – Philippine Genome Center), and UP-NIH (National Institutes of Health) today report the detection of 266 B.1.1.7 variant cases, 351 B.1.351 variant cases, and 25 P.3 variant cases among the 752 samples sequenced last week. No additional P.1 case was detected," the DOH said in a biosurveillance report.
To date, there are currently 54 active cases of the B.1.1.7 (UK) variant, 54 active cases of the B.1.351 (South Africa) variant, one active case of P.3 (Philippine) variant, and no active cases of P.1 (Brazil) variant.
Some 204 cases of the UK variant have so far recovered, 293 from the South African variant, 24 from the Philippine variant, and none from the Brazilian variant.
Eight have died from the UK variant, four from the South African variant, and none for both the Philippine and Brazilian variants.
As of Sunday, there have been a total of 659 UK variant cases, 695 South African variant cases, 148 Philippine variant cases, and two Brazilian variant cases detected in the country.
The DOH reiterated its call for the public to consistently follow minimum public health standards such as wearing face masks and observing proper physical distancing, supporting the government's National Vaccination Program, and the local government units' continuous implementation of the "Prevent-Detect-Isolate-Treat-Reintegrate" strategy to control the spread of Covid-19. (PNA)