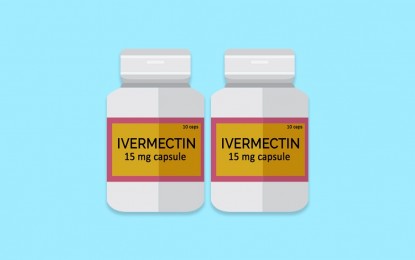 MANILA – An infectious diseases expert on Thursday said there is still no sufficient evidence showing ivermectin's efficacy as prophylaxis and treatment for mild to moderate Covid-19 cases.
"We still hold on to our statement based on our review of evidence that there is still insufficient evidence until this time which is why we are waiting for the results of ongoing clinical trials and why we have embarked on a clinical trial," Philippine Society for Microbiology and Infectious Diseases President Dr. Marissa Alejandria said in an online media forum.
Alejandria was responding to Dr. Benigno Agbayani Jr. of the Concerned Doctors and Citizens of the Philippines who said there are 50 studies - 27 of which are peer-reviewed - presenting the anti-parasitic drug's efficacy and even the Department of Science and Technology (DOST) has agreed on it.
To avoid misinterpretation of studies or clinical trials published online, she said there are several factors which health experts consider.
"When we do studies, hindi namin pinaghahalo ang prophylaxis and treatment sa pag-analyze. Nakahiwalay iyan, under treatment nakahiwalay din ang mild, moderate, severe kasi iba ang (we don't mix the prophylaxis and treatment in the analysis. They are separated, under treatment we also separate the mild, moderate, severe because of different) effects, sub-group analysis is done when we do our systematic review," she said.
She added they also check if the clinical trials have been published in a peer-reviewed journal or if they are "pre-print", meaning they have not been peer-reviewed.
"So for Ivermectin, only six are peer-reviewed [clinical trials], the rest are pre-print, meaning they have not been adjudicated by peer reviewers," she said.
"Look at the websites where these articles are published. Go to websites, the medical societies website, DOH [Department of Health], HTAC [Health Technology Assessment Council], so these are websites that publish peer-reviewed and follow the standards of appraising and developing clinical trials guidelines, WHO, US-NIH [National Institutes of Health], if we're talking about infectious diseases," she added.
Meanwhile, DOST-Philippine Council for Health Research and Development chief Dr. Jaime Montoya said he has clarified the concern with Agbayani during a conference.
"I told him we never issued that statement or maybe it was interpreted out of context. So, consistent po ako, kung sufficient na po ang evidence bakit pa po kami gagawa ng trial, so hindi po iyan tama (So, I'm consistent, if there's already sufficient evidence why would we still conduct a trial, so it's not right)," Montoya said.
Since there is still no evidence whether Ivermectin is effective against Covid-19, Montoya said the government will conduct a clinical trial on the drug and the target of the study is by the end of May or first week of June.
He said the plan is to recruit mild to moderate Covid-19 patients in the National Capital Region for the clinical trial.
Earlier, President Rodrigo Duterte personally ordered the trial which is expected to be completed before the end of the year. (PNA)