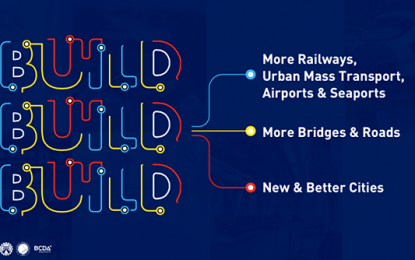 MANILA – Construction firm D.M. Consunji Inc. intends to participate in building more projects under the infrastructure program of the government, optimistic about the construction staging a strong bounce-back with the start of coronavirus vaccines rollout in the country.
"Yes, we intend to participate in the 'Build, Build, Build' projects but as a joint venture partner and/or as a subcontractor considering that these projects will not allow DMCI to participate as a single entity," DMCI Holdings chairman and president Isidro Consunji said during the engineering conglomerate's virtual stockholders' meeting Tuesday.
He cited Japan International Cooperation Agency (JICA) requiring Japanese participation while the pre-qualifications requirements of Asian Development Bank (ADB) will necessarily involve foreign partners.
Consunji said he is bullish about the recovery of its construction business unit "if we win some of the big-ticket items" in the government's infrastructure program.
"This year, we expect a strong bounce-back from DMCI given its substantial order book, additional workers, and increased barracks capacity. Productivity is also higher because unlike last year, essential and priority infrastructure projects are allowed to continue even during ECQ (enhanced community quarantine)," he added.
Consunji said the firm's order book reached PHP58.7 billion while workers hired hit 1,938.
It is currently participating in the construction of "Build, Build, Build" projects including the North South Commuter Railway (depot and viaduct), Skyway Stage 3 Section 1, NLEx-SLEx (North Luzon Expressway-South Luzon Expressway) Connector Road Section 1, Cavite–Laguna Expressway, and LRT (Light Rail Transit) Line 2 Masinag Extension.
Meanwhile, as part of its pandemic response, Consunji said the conglomerate ordered over 30,000 jabs for its employee vaccination program.
"Taking into account the unfortunate manufacturing and shipping delays, we expect our vaccination rollout to start sometime in the fourth quarter of this year. In the meantime, we have been encouraging our employees to avail of the government vaccines, should it become available to them," he added. (PNA)