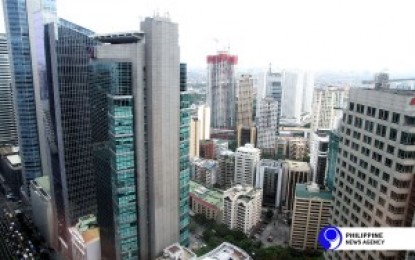 MANILA – Faster vaccination program rollout to address the high number of coronavirus disease 2019 (Covid-19) infections, targeted containment measures, and sustained implementation of stimulus programs are expected to buoy the Philippine economy this year, an economist said Tuesday.
However, pandemic-related developments made Asean+3 Macroeconomic Research Office (AMRO) slash its 2021 growth forecast for the Philippines to 6.4 percent from 6.9 percent, and the 2022 projection to 6.8 percent from 7.9 percent.
"For most countries in the region, including the Philippines, one of the priorities now is to roll out the vaccination as quickly as possible in order to contain the infection so they can open up the economy more fully and allow the economy to recover," AMRO chief economist Dr. Hoe Ee Khor said in a virtual press briefing.
He said fiscal support is critical "and fortunately, in the case of the Philippines, we do see ample fiscal space."
Based on the AMRO report on the country released during the day, the domestic economy continues to post improvements after registering its decades-low contraction of 16.9 percent in the second quarter of 2020.
"After the initial bounce back in 2020, the recovery momentum will depend on the pace of further reopening of the economy, restoration of confidence, and the strength of policy support," it said, adding "a quick rollout of vaccination will accelerate the reopening process and help boost consumer and business confidence."
The report said the government's goal was to vaccinate 70 percent of the population this year but noted the risks posed by vaccine supplies and the pace of deliveries.
As the domestic economy is service-oriented and most businesses belong to the micro, small and medium enterprises (MSMEs), Khor said this characteristic makes the Philippines susceptible to pandemic shocks.
This is the reason for the need for sufficient fiscal support to address any economic scarring, he said.
Khor said the economy contracted last year by 9.6 percent, as measured by gross domestic product (GDP), and it is a challenge to register a 6-percent level growth given the large output gap.
"Whether the country can continue to sustain 6 percent year after year potential growth, whether that's been affected, depends on how much scarring has been in the economy. And this is why, again, go back to the fact that there should be sufficient support to minimize the scarring of the economy so that it doesn't undermine the potential growth," he said.
Khor said the government continues to have fiscal space and this should be used to strengthen the economic recovery "because the recovery momentum has weakened."
He also highlighted the need for additional support to the vulnerable groups like those working in the services sector whose jobs were affected by the mobility restrictions, and the MSMEs.
"It is important to do that because then you reduce the scarring for (the) economy and the economy can bounce back much faster to pre-Covid level," he added. (PNA)