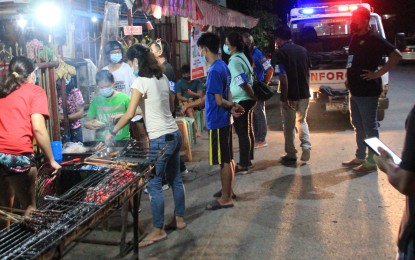 DUMAGUETE CITY – The regional director of the Philippine Chamber of Commerce and Industry (PCCI) in Central Visayas on Monday said an extension of the modified enhanced community quarantine (MECQ) in Negros Oriental will further push daily wage earners and the marginalized sector into depressing conditions.
In an interview on Monday, Dumaguete-based businessman Edward Du, who is also a former president of the Negros Oriental Chamber of Commerce and Industry (NOCCI), said the MECQ classification imposed in the province since June 16 has already displaced many low and average income earners as well as the micro, small, and medium enterprises or MSMEs.
If the MECQ will still be extended after July 15, he said assistance must be given to those who have lost their jobs due to the shutdown of some establishments.
"Definitely, if there is no assistance from the government, I don't think they will survive another 15 days, otherwise how can they feed their family," Du said in mix English and Cebuano dialect.
Unlike the bigger establishments such as restaurants and bars who have "savings" for a few months which allow them to survive the MECQ, establishments with lesser income like "carenderias" (eateries) and barbershops are the ones badly affected, he said.
"For me, maybe the economy can still survive because we have the BPOs (business process outsourcing), the sugar industry, and even the prices of copra have improved a little," Du said.
Something must be done to ensure the survival of these people, especially those living a so-called "hand-to-mouth-existence", he added.
The city government here is expected to roll out some PHP13 million in assistance for residents affected by the stricter quarantine classification.
Negros Oriental was placed under MECQ due to a surge in coronavirus disease 2019 (Covid-19) cases that started in the first quarter of this year and had, at some point, made the province and this capital city the epicenter of infections in Region 7.
Under the MECQ, dine-in at food establishments is prohibited, while other establishments such as gyms, barbershops, and salons were ordered temporarily shut. (PNA)