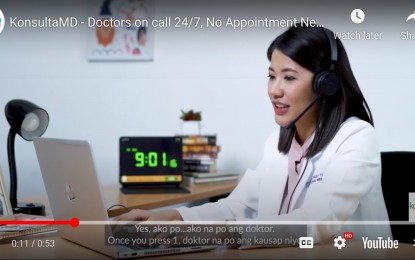 MANILA – Telehealth will continue to be on-demand and evolve even after the coronavirus disease 2019 (Covid-19) pandemic, executives of corporate venture builder 917Ventures and telehealth service KonsultaMD said on Wednesday.
"I'm not saying telehealth will replace face-to-face consultations, but the habit of using it as a first touchpoint will remain," KonsultaMD chief executive officer Cholo Tagaysay said in a virtual presser.
Consultations made via KonsultaMD rose 1,549 percent compared to pre-pandemic, he reported.
Likewise, partner medical doctors also continuously grow in number, he added.
"This shows that doctors appreciate the fact that even if they are based in Metro Manila, they can care for patients in Tawi-Tawi (for example)," Tagaysay commented.
Patients, on the other hand, can consult with the doctors even at 3 a.m. There is no appointment needed, and they can consult about their physical and mental health 24/7.
According to Tagaysay, those who consulted via KonsultaMD asked about a wide array of topics, such as Covid-19, stomachache, headache, cough, flu, dieting, as well as prescriptions.
"Telehealth has become an important innovation that will stay and evolve," said Vince Yamat, managing director of 917Ventures, the venture builder behind KonsultaMD.
Yamat stressed that apart from making healthcare affordable, 917Ventures is leading its customers towards digitalization.
He acknowledged that prior to the pandemic, some people were hesitant to use the telehealth service because they are used to the traditional face-to-face consultations. KonsultaMD, he said, has been helping in addressing healthcare issues such as the lack of professionals and infrastructure, or the limited accessibility.
Users of KonsultaMD breached 1 million in the first half of 2021, and both Tagaysay and Yamat reiterated they believe these users will retain the option of consulting doctors through a voice or a video call.
Teleconsultation continued to grow even as Covid-19 cases subsided this year because people realized the advantages of going digital, said Yamat. He compared this when people appreciated using an e-wallet and buying groceries online.
As for Tagaysay, he said KonsultaMD is open to competitors since no company can solve healthcare problems alone. (PNA)