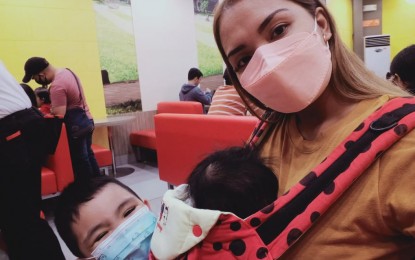 DAVAO CITY – Mayor Sara Z. Duterte has reminded parents anew to ensure that their children, especially those who have not yet received a vaccine against the coronavirus disease 2019 (Covid-19), adhere to the minimum public health standards (MPHS) in public or crowded places and other gatherings.
In an interview Tuesday, Julie Christine Indoyon, a mother of two kids, said parents need to practice requiring their kids to wear face masks.
Indoyon admitted having a difficult time convincing her three-year-old to wear the protective gear at first.
"He was really hesitant to wear a face mask, knowing that he was still a child and found it uncomfortable. But I told him that if he will not use it, he will be arrested by the police. He then (got) used to it," she told the Philippine News Agency (PNA).
She also urged other parents to adhere to the MPHS for their family's protection.
"Do not let your kids go out without their face masks on. It may be hard to convince them at first but eventually, they will understand and will get used to it," Indoyon said in the vernacular.
On December 27, Duterte issued the reminder on observing the MPHS after the Davao City Covid-19 Task Force observed that many children were not wearing their face masks properly in crowded places over the weekend.
"Our reminders for the parents regarding the minimum public health standards – whatever applies to adults also applies to the children. The children, who often touch anything with their hands and loiter around, (it) is very important for them to get used to wearing the face mask," Duterte said in a radio interview.
However, she clarified that infants are exempted from the mandatory wearing of face masks as they might suffocate.
She also advised parents to train their children to wear face masks at home and explain to them why they have to do so.
"This will also serve as a practice for the children once schools resume the face-to-face classes in the future," Duterte added. (PNA)