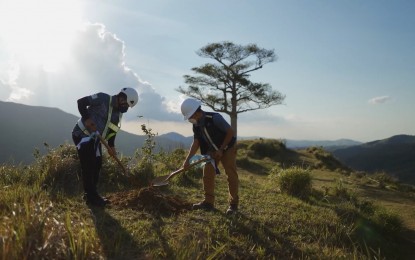 MANILA – AboitizPower Corp. is accelerating its 94-megawatt (MW) solar power project in Cayanga, Bugallon in Pangasinan following a groundbreaking ceremony on Thursday.
AboitizPower unit Aboitiz Renewables, Inc. (ARI) said construction for the PHP4.5-billion solar project will begin soon as it targets to start its operation by the fourth quarter this year.
"Cayanga solar is a very significant project for us at ARI. This marks the beginning of our exciting journey ahead —growing our renewable energy portfolio over the next 10 years to accelerate the Philippine energy transition to more environmentally sustainable sources," ARI executive director David Smith said.
The Cayanga power project is AboitizPower's second solar venture after its solar facility in San Carlos City, Negros Occidental with a peak capacity of 59 MW.
The upcoming solar power plant in Pangasinan is expected to produce 147 million kilowatt-hours of clean energy every year, which can power 60,000 average Filipino homes for a year.
Its capacity will be contracted for retail supply.
"The groundbreaking of this solar farm proves that solar energy is technically and economically competitive and could deliver clean and green energy, helping our nation to mitigate climate change impacts through the reduction of carbon footprints by offsetting the energy produced by these fossil fuels," Energy Undersecretary Felix William Fuentebella said.
He added the department hopes that more companies and individuals invest in cleaner sources of energy to lessen dependence on fossil fuels, which prices are currently rising fast.
AboitizPower Generation Group chief operating officer Alexander Coo said the company believes that the province of Pangasinan is key to the "energy revolution" that is needed to change the way the country looks at renewable energy resources.
AboitizPower, PV Sinag Power Inc., Department of Environment and Natural Resources, provincial government of Pangasinan, and municipal government of Bugallon will undertake the project, according to a statement issued by the Pangasinan Provincial Information Office (PIO).
"Through this multi-billion project, we are truly blessed to cement our partnership with AboitizPower Corporation in harnessing the power of the sun to bring clean energy to our homes, our offices, and our industries. On behalf of the provincial government of Pangasinan, we assure you of our full support in the implementation of this essential project," Pangasinan Governor Amado Espino III said in a statement.
Bugallon mayor Priscilla Espino also thanked AboitizPower for choosing their town as the site of the solar power project.
The project supports the government's thrust of promoting renewable energy in the country. (PNA)