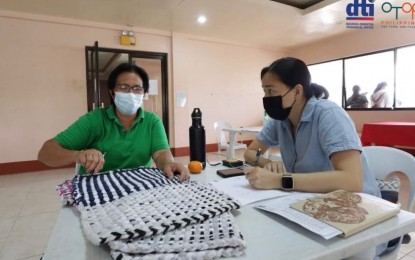 DUMAGUETE CITY – The Department of Trade and Industry (DTI) in Negros Oriental is now bringing its services to clients, specifically the micro, small and medium enterprises (MSMEs), to assist in determining whether their product is qualified in the One Town, One Product (OTOP) program.
Krystle Jade Bato, DTI-Negros Oriental information officer, told the Philippine News Agency on Tuesday that the second run of their OTOP assessment, consultation, and triage (ACT) was held in Bayawan City on Monday to meet with MSMEs to check on their food and non-food products. The product assessment is ongoing.
"Instead of these MSMEs coming to our office, we now go to them and check on which areas need further assistance, such as labeling requirements for them to qualify as an OTOP," she said in mixed English and Cebuano.
If a product does not qualify to be an OTOP, or is something common in other areas, the DTI OTOP ACT team will help these small businesses find other "productive interventions for them to transition to something that can qualify as OTOP", she added.
The visit also included discussions on the OTOP program, branding basics, going digital, food safety, and one-on-one consultation.
The OTOP ACT is part of the OTOP Next Gen, one of the two components of the OTOP program, the other being the OTOP Hub, the DTI said earlier in a media release.
While the OTOP Next Gen focuses on the supply side of the program and developing the products, the OTOP Hub focuses on the demand side, providing several channels to sell the products that came from OTOP Next Gen.
One Town, One Product Philippines is a priority stimulus program for micro, small and medium enterprises (MSMEs) as the government's customized intervention to drive inclusive local economic growth.
The program enables localities and communities to determine, develop, support, and promote products or services rooted in its local culture, community resource, creativity, connection, and competitive advantage.
As their own 'pride-of-place,' these are offerings where they can be the best at or best renowned for.
It endeavors to capacitate our 'OTOPreneurs' to innovate and produce market-ready products and services. (PNA)