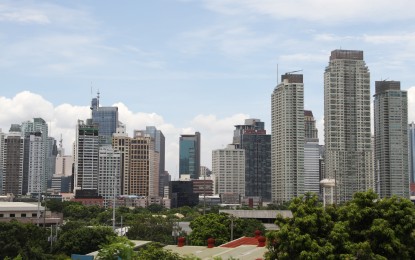 MANILA – The Philippine economic recovery is expected to gain traction this and next year, underpinned by rising domestic investment and consumption as pandemic restrictions eased, allowing for more manufacturing and construction activities, according to a new report released by the Asian Development Bank (ADB) Wednesday.
The Asian Development Outlook 2022, ADB's flagship economic publication, forecasts the Philippine economy to grow by 6 percent in 2022, rising further by 6.3 percent in 2023.
Government measures issued last month to reopen the economy, lift mobility restrictions, expand coronavirus disease 2019 (Covid-19) vaccination, and relax international travel restrictions will boost the services sector.
"Nearly all indicators point to higher growth for the Philippines this year and in 2023, barring the impact of external factors from geopolitical tensions that may dampen growth globally, including in the country's key export markets Europe and the United States," ADB Philippines Country Director Kelly Bird said.
"Policies to build the resilience of micro, small and medium-sized enterprises (MSMEs), which play a vital role in the country's economic recovery, should be strengthened to support the sector's digital transformation, business innovation, and skills development," Bird added.
The ADB is currently assisting the government to provide employer-led skills training to selected sectors to upgrade MSME workers' competencies under the Skills Up Net Philippines program.
The capital Metro Manila and areas on the main Luzon island, which account for about 70 percent of gross domestic product (GDP), shifted to the lowest level of pandemic restrictions in March, as daily Covid-19 cases averaged below 1,000.
Businesses and public transport are now allowed to operate at full capacity.
The government has reopened the country to fully vaccinated international travelers since February. This should boost tourism and employment in the services sector, which accounts for 60 percent of GDP, according to the report.
Increased public investment in large, priority infrastructure projects will continue to boost growth, with the government aiming to sustain infrastructure spending at over 5 percent of GDP in 2022 from 5.8 percent in 2021, the report said.
Recent upticks in private investment and the passage of policy reform measures to ease rules on foreign equity ownership and lower the minimum paid-up capital of foreign retailers will support economic growth.
Imports of capital goods climbed at a double-digit pace in January 2022 and bank lending to businesses posted its biggest annual increase in nearly two years in the same period.
Net inflows of foreign direct investment rebounded by 54.2 percent year-on-year in 2021, with the inflows channeled mostly into manufacturing and utilities sectors.
Inflation is forecast to rise to 4.2 percent in 2022 on pressures from higher global oil and commodity prices due to geopolitical tensions.
In March, the government issued fuel subsidies and discount vouchers to public transport drivers, farmers, and fisherfolk to help them cope with rising fuel and production costs.
Inflation is expected to decelerate to 3.5 percent in 2023 as global commodity prices moderate. (PR)