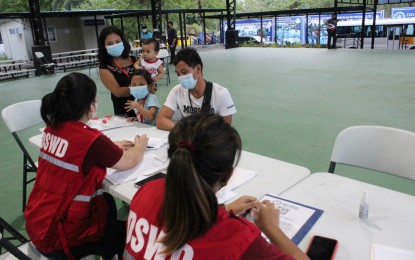 MANILA – The Balik Probinsya, Bagong Pag-Asa (BP2) program on Friday announced that it will officially change its website to www.balikprobinsya.nha.gov.ph starting April 22, after which the current www.balikprobinsya.ph will no longer be available.
Under the new system, the government will facilitate the application for the BP2 program in three ways: through the applicants' respective barangays (villages), via the Department of Social Welfare and Development (DSWD), or by visiting the BP2 Depot along Agham Road in Diliman, Quezon City.
President Rodrigo Duterte signed Executive Order No. 114 on May 6, 2020 to institutionalize the BP2 program, which aims to address Metro Manila's congested urban areas by encouraging people, especially informal settlers, to return to their home provinces.
The immediate assistance under the BP2 program includes transportation allowance, travel requirements, and emergency cash aid.
Through the government's whole-of-nation approach, applicants may get livelihood and employment opportunities, transitory support package, and transitory shelter assistance.
The DSWD said eligible applicants could be those who were affected by government projects and by legal demolition activities; families living on the streets or in danger zones; those hit hard by human-induced or natural disasters, including health hazards such as the coronavirus disease 2019 pandemic; those who lost their jobs or income opportunities; and informal settlers.
Marginalized, disadvantaged, or vulnerable individuals who wish to have a fresh start in the countryside may also apply for the program.
Eligibility may include other situations deemed acceptable and valid based on the assessment of the social workers during the period of application.
Applicants may send further inquiries via the DSWD email address [email protected] or call the hotline (02) 8952-0697 or (02) 8931-8101, local 513.
The types of services and the total amount of assistance to be provided to each family will vary based on the assessment of the DSWD, in coordination with the local social welfare officers, partner stakeholders, and DSWD field offices.
The DSWD will similarly provide psychosocial support during their transition period in the provinces. (PNA)