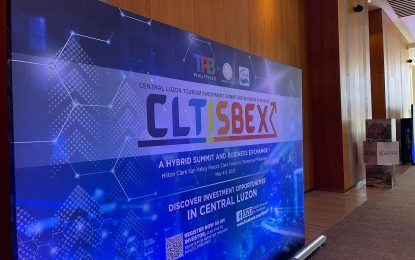 CLARK FREEPORT, Pampanga – Vast opportunities in the fields of tourism and investment in Central Luzon were showcased in the first Central Luzon Tourism Investment Summit and Business Exchange (CLTISBEX) Hybrid Edition at Hilton Clark Sun Valley Resort, here on May 4-5.
The summit, spearheaded by the Department of Tourism Region (DOT) III, together with Tourism Promotions Board Philippines and Subic-Clark Alliance for Development (SCAD), presented the tourism investment portfolios and unique offerings that make Central Luzon an ideal tourism and investment destination.
DOT Secretary Berna Romulo-Puyat said Central Luzon is now one of the most preferred investments and tourism destinations across the Asia Pacific region due to its two economic zones, expanding infrastructure facilities, and the Clark International Airport
"The Clark Freeport Zone and Subic Bay Freeport Zone have both undergone major redevelopment over the last few years. But this is just the tip of the iceberg because, in these areas, there is still so much potential for the number of industries not just for tourism," Romulo-Puyat said in her message during the livestreamed event.
She said they expect to see massive and sustained growth in the region in terms of hospitality, manufacturing, logistics, information and communications technology, and aviation-related industries.
"With the opening of its new terminal, Clark now showcases a world-class international airport while Subic is a highly strategic seaport, a major plus for cruise tourism," she noted.
SCAD chairperson Edgardo Pamintuan likewise cited the vital infrastructures that make the region one of the country's premier tourism and investment destinations.
"The seamless infrastructures in the whole region mainly connected by the Subic-Clark-Tarlac Expressway (SCTEX), the premier economic zone, the Clark International Airport, and the Port of Subic soon to be connected by the Subic-Clark Railway is seen as a strong and symbiotic relationship of public and private stakeholders," Pamintuan said.
During the event, the Clark Freeport Zone and Clark Special Economic Zone which covers the New Clark City in Capas, Tarlac, were among the areas pitched to potential locators.
BCDA senior vice president for Conversion and Development Joshua M. Bingcang provided updates on the developments within New Clark City, as well as future plans to advance the area into a sustainable, disaster-resilient, smart city where business and leisure can go hand in hand.
The CLTISBEX is organized to identify opportunities for sustainable tourism development and promote Central Luzon as a preferred destination for tourism-industry businesses.
The two-day event showcased pre-selected areas and projects to local and foreign investors and provide an avenue for virtual business-to-business and networking sessions. (PNA)