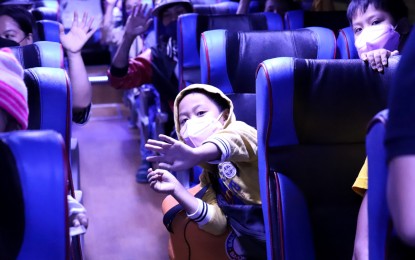 MANILA – The government's "Balik Probinsya, Bagong Pag-asa" (BP2) program has already facilitated the return of 729 individuals in their home provinces, since the Covid-19 pandemic hit the country in March 2020.
Noralyn Empasis, a beneficiary from Saranggani, South Cotabato, said the BP2 program did not only provide her an opportunity to start a new livelihood in the province but also give her the chance to be with her mother after a long time struggling in Metro Manila.
"Excited na excited ako nung makita ko yung mama ko. Siya ang dahilan kaya ako bumalik dito, habang buhay pa yung mama ko (I was so excited to see my mother. She was the reason why I came home here," Empasis said in a previous interview via text message, adding that the happiness to hug her mother once again is "priceless."
Empasis was on the dark side of her life when her mother got sick when she was in Manila for work. She has to choose whether to go home or strive harder to save more money for her mother's treatment.
And then, she chose to add a lifeline to her mother by working double time. She also asked her employer to lend her PHP50,000 for the hospitalization and other medication of her mother.
There was a huge relief when the news came that her mother is getting well. Empasis wanted to hug her mother and show physically how she loved her but she has to pull off against the strange life as she can't go home due to financial constraints.
Thanks to the BP2 program, Empasis had another chance to reunite with her mother and have a fresh start.
The BP2 program has facilitated Empasis' logistical requirement and the dispatch proceedings at the BP2 Depot in Quezon City, including registration, orientation, and swab testing to ensure safe travel going back to their hometowns.
She said she was so happy that aside from not spending a single centavo for transportation and other travel requirements, they also got livelihood assistance from the government.
An Executive Order No. 114, signed by President Rodrigo Duterte on May 6, 2020, institutionalized the Balik Probinsya, Bagong Pag-Asa program, with the primary goal of addressing overcrowding in Metro Manila's urban areas.
It is also assisting informal settlers to go back to their home provinces with opportunities including the provision of transportation, sustainable livelihood assistance, and cash aid, as well as skills training programs, among others.
The BP2 program will facilitate again another batch of the latest recipients of set to return to the provinces of Lanao del Norte, Misamis Oriental, and Iligan City by next week. (PNA)