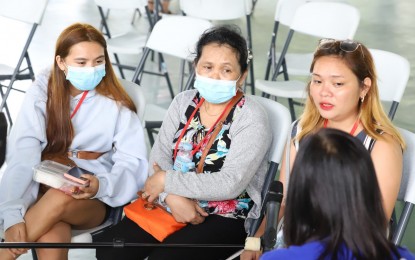 MANILA – Armed with a full belief that the government will fulfill its promises, a family of three took the risk of going back to their home province despite uncertainties about what the future holds for them.
At 23, Leah May Taganile has taken on the full responsibility of looking after the needs of her 61-year-old mother, Leonila, and supporting the studies of her younger sister, 21-year-old Lilibeth.
On Tuesday, they left for Agusan del Sur through the "Balik Probinsya, Bagong Pag-asa" (BP2) program.
In an interview, she confessed she still has fears on how they will be able to survive life in the province but she is putting all her trust in the BP2 program.
"Masasabi ko na sana 'yung pinangako nila is matupad talaga kasi kaya din kami nag-desisyon, umasa kami dun sa sinasabi nila kasi 'di ko alam ano mangyayari sa amin 'pag hindi pala natupad 'yun. Wala naman trabaho 'tong mga kasama ko. Ako rin wala. Wala pa kaming bahay so san na kami pupulutin (I am just hoping that they keep all their promises because that was the main basis of our decision. I don't know what will happen to us if that does not happen, I don't have work, and so do my sister and mother. We do not have a house. Where will we end up)?" Taganile said.
However, staying in Metro Manila is equally difficult.
"'Yun talaga yung pinangyayawakan ko na masunod 'yung sinasabi nila. Walang choice na talaga kami (We have no choice. I am just holding on to their promises)," she added.
Taganile used to work as a salesperson in a giant mall chain, earning enough to send money to the province for her mother and sister, whom she asked to visit in late 2019.
When the coronavirus disease 2019 (Covid-19) pandemic struck and lockdowns were imposed, her mother and sister were trapped in Manila.
With stores and establishments closing down, Taganile was among those laid off.
They survived on the food and financial assistance from the national and local governments but it came to a point when they could only eat one meal a day.
After two years of waiting for a call from the BP2 program, she is hoping the wait is all worth it.
"Kasi ang inaano din naming, pabahay kasi wala na kaming bahay kasi kahit mag-stay ako dito sa Maynila, hindi rin kami makatayo ng bahay sa kikitain ko kasi sa rent pa lang eh, pagkain pa, mga bills pa, kaya nagdesisyon na talaga kami na umuwi at tsaka i-avail itong (We want to avail of the housing program because even if I stay here in Manila, I won't be able to build a house with my meager salary as I still have to pay for the rent, bills, and food, so we decided to go home and avail of the) Balik Probinsya program," she said.
They will temporarily live with her older sister, who has a family of her own but is jobless as well.
When they arrive in the province, she would immediately avail of the livelihood assistance and training programs.
"'Yun po talaga yung inaasahan namin para me mapagkitaan kami kasi wala talagang source of income dun. Kahit ngayon nga namomroblema ako kasi pagdating namin dun wala naman kaming allowance pangkain eh wala rin naman 'yung pupuntahan namin (We're counting on the trainings o we could have at least a source of income. Even now, I am already thinking of where to get our daily food allowance because my sister there is also jobless)," she said. (PNA)