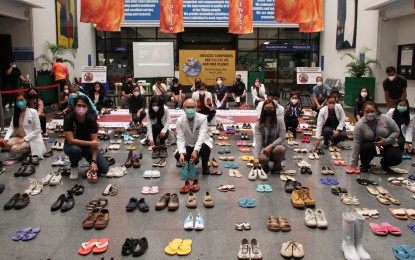 MANILA – The Philippines has a daily average death of 321 due to tobacco-related diseases, according to the Lung Center of the Philippines (LCP).
Worldwide, tobacco kills more than 8 million each year, according to the World Health Organization. More than 7 million of those deaths are due to direct use while around 1.2 million are non-smokers exposed to second-hand smoke.
On Tuesday, an art installation of 321 pair of shoes and slippers that belonged to smoking-related fatalities were displayed at the LCP lobby to mark World No Tobacco Day. It will be open for viewing until June 3.
"Every day, 321 Filipinos die because tobacco companies continue to sell and market their addictive and deadly products," said Dr. Glynna Ong-Cabrera, LCP Smoking Cessation Program manager and Department of Health (DOH) Quitline project director.
"Tobacco products are designed to make it difficult for smokers to quit, putting them at risk to develop tobacco-related diseases which may eventually lead to death," she added in a news release.
Public interest law group ImagineLaw, co-organizer of the art installation, said tobacco companies thrive on addiction and death.
Lawyer Sophia San Luis, the group's executive director, said tobacco companies are neither friends nor allies and called on the incoming administration to be vigilant about the issue.
"As we enter into a new administration, we urge our new set of leaders to be vigilant and reject any attempt by the tobacco industry to prevent the implementation or worse, roll back life-saving tobacco control measures," she said.
In cooperation with the Philippine College of Chest Physicians, the LCP also hosted a virtual forum on the harmful effects of e-cigarettes or electronic nicotine devices, commonly known as vapes.
To help smokers who want to give up the vice, they may call DOH Quitline 1558 for their "quit journey". (PNA)