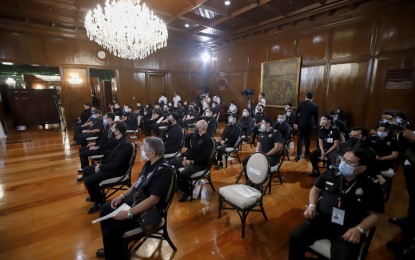 MANILA – The Department of Justice (DOJ on Friday ordered the dismissal of 18 officers and employees of the Bureau of Immigration (BI) after they were found administratively liable in relation to the so called "pastillas" bribery scheme.
DOJ Assistant Secretary Neal Bainto said the 18 were found guilty of grave misconduct, gross neglect of duty, and conduct prejudicial to the best interest of the service.
"The administrative aspect is without prejudice to further criminal or even civil liability that may be brought and proven in other proper forum(s)," Bainto said in a statement.
Ordered dismissed were Francis Dennis Robles, Glen Ford Comia, Rodolfo Magbuhos Jr., Deon Carlo Albao, Danieve Binsol, Paul Erik Borja, Abdul Fahad Calaca, Anthony Lopez, Gabriel Ernest Estacio, Chevy Chase Naniong, Danilo Deudor, Ralph Ryan Garcia, Phol Villanueva, Fidel Mendoza, Benlando Guevarra, Bradford Allen So, Cecille Jonathan Orozco, and Erwin Ortañez.
Two officials, Marc Red Marinas and Grifton Medina, were not among those investigated by the Fact-Finding Investigation Committee (FFIC) formed by the BI to investigate the organized protection scam, where inbound foreigners, most of them Chinese, go past stringent screening procedures in exchange for cash wrapped like the pastillas delicacy, a milk-based soft candy.
"They are instead included in the Ombudsman case or the complaint filed by the NBI (National Bureau of Investigation), also before the Ombudsman," the DOJ added.
The FFIC recommended the conduct of a formal administrative investigation against the 18 respondents, and upon formal charge and the ensuing formal hearing of the case, all 18 respondents were found administratively liable, the decision read.
President Rodrigo Duterte also summoned the suspects to Malacañang in November 2020, with paper bills in pastillas wrapper waiting for them to munch on.
The President changed his mind out of respect for DOJ Secretary Menardo Guevarra who was also at the Palace at the time.
The Ombudsman has charged 43 BI officials and staff for violating the Anti-Graft and Corrupt Practices Act.
The bail for the temporary liberty of each was recommended at PHP90,000 each. (PNA)