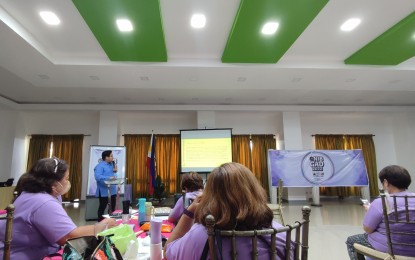 MANILA – Unwelcomed words and actions showing malice toward women, whether familiar or strange, remain a challenge in the country despite the existence of laws meant to protect women.
In this reality, the administration, through the Philippine Commission on Women (PCW), has been doubling initiatives to raise awareness on gender protection, sensitivity, and equality, especially in the workplace and the academe.
But for a legal expert, top-down key persons in the government agencies still have a long way to go in securing "safe spaces" for women.
Atty. Eric Paul Peralta, a legal expert on women's rights and protection, rated the state offices 3 out 5 when it comes to this matter.
"Medyo malaki pa 'yung room for improvement, siguro bigyan ko ng 3, hindi ito basta-basta mape-perfect, medyo mahabang proseso, at saka dapat talaga lahat tayo in harmony with it (There's still a huge room for improvement, maybe 3, this cannot be instantly perfected, there's a lengthy process, and we all must be in harmony with it). We need to give a chance to the law because this was just enacted in 2019, nagkaroon pa ng pandemic (then the pandemic happened)," he told the Philippine News Agency.
Peralta noted that before the onset of the pandemic, only a handful of cases have been reported for violation of Republic Act (RA) 11313 or the Safe Spaces Act, which aims to uphold equality for both men and women as well as "security and safety not only in private but also on the streets, public spaces, online, workplaces and educational and training institutions."
He said this indicates the low awareness of the public, including government employees, on the law and their rights under it.
Catcalling or the "unwanted remarks directed towards a person, commonly done in the form of wolf-whistling and misogynistic, transphobic, homophobic, and sexist slurs," which is typically experienced in random public places, is just one of the many prohibitions under RA 11313.
Raising awareness
For the part of PCW, it has been continually releasing #BawalBastos campaigns to echo this law. However, the latest figures show the call for "safe spaces" needs to resound louder.
According to the Gender Statistics 2022 of the Philippine Statistics Authority (PSA), some 17,968 women aged 15-49 have experienced various forms of violence including physical and sexual violence in the country.
While 12,492 cases of violence and abuse to women were reported to the Philippine National Police (PNP), with 8,399 records on physical injuries; 1,791 for rape; and 1,505 acts of lasciviousness, among others, as of February.
Peralta insisted that the laws are vital, yet a holistic approach, led by government agencies, should be advanced to combat the persistence of such figures.
"Yung batas isa lang 'yan, mahalaga pero kailangan mo ring pagtuunan ng pansin na ang harassment ay hindi lang legal, mas mahalaga pa nga 'yung pag-handle sa psychosocial, kasi (The law is just one, but you also need to see that harassment is not just legal [concern], it is even more important to [consider] its psychosocial handling, because) every harassment, for me, is traumatic," he said.
He added that for agencies to effectively ensure "safe spaces", offices must consistently spread awareness in the workplace through Gender and Development (GAD) seminars and forums; secure a Committee on Decorum and Investigation (CODI) which will act as an "independent internal mechanism" in the organization addressing complaints on sexual harassments; and a functional GAD Focal Point System, which will advocate, enforce, and monitor GAD-related programs; and lastly the proper complaint procedure and liability measures.
Peralta, meanwhile, said that for individuals who are uncertain whether or not they are victims of such acts, the perpetrator's passing of the malicious act borderline, identified solely by the victim, is valid enough to raise a complaint.
"Apart from that feeling, make sure there will be proper documentation, proper proof, kasi lagi naman 'yang evidentiary," he said.
In the end, Peralta said, a more active information campaign for "safe spaces" should be continually initiated by the government, all the more as ignorance of the law excuses no one. (PNA)