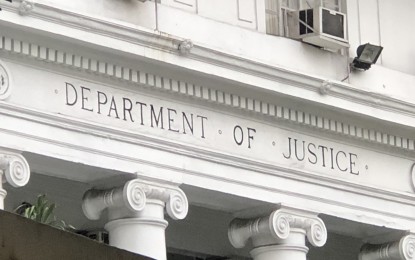 MANILA – Immigration posts have been ordered to be on the lookout for the sports utility vehicle (SUV) driver who was caught on video running over a security guard at a Mandaluyong City intersection on June 5.
In a message to reporters on Tuesday, Department of Justice (DOJ) Secretary Menardo Guevarra also said a complaint has been filed before the Office of the City Prosecutor (OCP) in Mandaluyong City against the SUV driver for frustrated murder and violation of Article 275 of the Revised Penal Code on the abandonment of persons in danger.
"The OCP-Mandaluyong City asked the DOJ for the issuance of an immigration lookout bulletin order on the respondent (and) the DOJ has issued it at noon today," Guevarra said.
The DOJ chief said there was no indication that the driver, identified by the police as Mr. San Vicente and Jose Antonio San Vicente in some social media posts, had left the country.
Philippine National Police (PNP) officer-in-charge Lt. Gen. Vicente Danao Jr. said in a press briefing on Monday that San Vicente had a case of reckless imprudence in the past.
Christian Floralde was directing traffic at the corner of Julia Vargas Ave. and St. Francis Street in Barangay Wack-Wack when the SUV did not stop as directed and instead bumped and ran over the 31-year-old victim.
The driver fled the scene while Floralde spent four days in a hospital.
The Land Transportation Office summoned San Vicente on June 7 and 10 but he did not show up.
His driver's license has been revoked.
Alert mode
Meanwhile, the Bureau of Immigration (BI) said it has encoded the name of San Vicente in its system to be able to monitor any attempts of the suspect to leave the country.
"The alert has been encoded in our system and will allow our officers to monitor his travel if encountered in any airport or seaport nationwide," Immigration Commissioner Jaime Morente said in a statement.
Morente, however, said the order does not automatically bar San Vicente from leaving the country.
"The ILBO is for monitoring purposes only, and it orders the Bureau to be on the lookout for the subject. If encountered, the BI is instructed to coordinate with the National Prosecution Service, the DOJ, and the Office of the City Prosecutor of Mandaluyong City to determine the appropriate action to be taken thereafter," he added.
The PNP also said it is awaiting the issuance of an arrest warrant against San Vicente.
"We are also preparing for the possible service of the warrant of arrest, including the creation of a team to serve the court order and, if necessary, tracker teams," PNP director for operations, Maj. Gen. Valeriano de Leon said in a media statement.
De Leon also assured the public that there will be no special treatment for San Vicente, amid rumors that his wealth prevents law enforcement from arresting him. (with Ferdinand Patinio and Lloyd Caliwan/PNA)