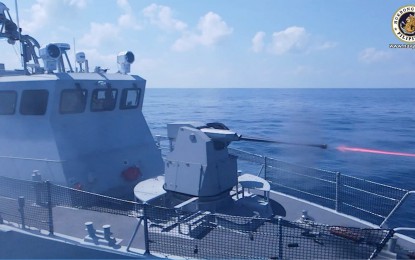 MANILA – The Philippine Navy's first two fast-attack craft missiles (FAIC-Ms) test-fired their weapon systems last week in Israel.
Two FAIC-Ms -- Typhoon 30mm automatic cannon and Mini-Typhoon machine gun system -- were fired in these exercises.
"The inspection held from 27 to 30 June 2022 included the functional testing of all mission-critical machineries, navigation and communications equipment, and live firing of its combat systems," Navy spokesperson Commander Benjo Negranza said in a statement over the weekend.
Also tested were the FAIC-Ms redundancy controls from its open pilot house along with sea trials of the vessels' rigid-hull inflatable.
Negranza said the joint certification of compliance, required for the shipment of the two FAIC-Ms to the Philippines, was also signed.
The vessels are expected to arrive by the third quarter of this year, he added.
"The acquisition of the new craft is the latest in the PN's pursuit to become a modern and multi-capable naval force, responsible for protecting our maritime nation's sovereignty," Negranza said.
The first two FAIC-Ms were formally launched by Israel Shipyards Limited in Haifa, Israel last June 26.
Four of the FAIC-Ms will be armed with non-line-of-sight missiles with pinpoint accuracy and a range of 25 kilometers while the other four will be armed with machine guns and light automatic cannons.
The acquisition of eight FAIC-M units is among the 2019 projects approved by former President Rodrigo Duterte under the Horizon 2 List of the Revised Armed Forces of the Philippines modernization program.
The notice of award for the FAIC-M project, worth around PHP10 billion, was issued on January 5 last year. (PNA)