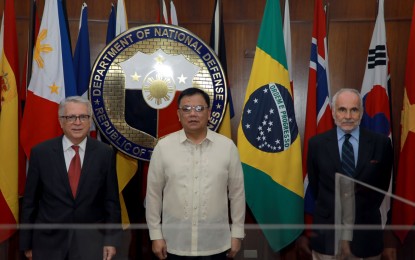 MANILA – The Philippines and Brazil look forward to having stronger defense ties following the recent signing of a memorandum of understanding (MOU) on defense cooperation between the two countries.
Department of National Defense (DND) officer-in-charge, Undersecretary Jose Faustino Jr., met with representatives from the Brazilian government headed by Special Envoy to the Association of Southeast Asian Nations (Asean) Piragibe Tarragò and Ambassador to Manila Antonio J. M. de Souza e Silva at DND main office on Wednesday.
"With the recent signing of MOU on Defense Cooperation between the Philippines and Brazil, Senior Undersecretary Faustino solicited Brazil's support for the ASEAN Outlook in the Indo-Pacific and welcomed the further development of bilateral cooperation between the two defense establishments," said DND spokesperson Arsenio Andolong in a statement.
Signed on June 29, the MOU is the first bilateral agreement by the Philippines with a Latin American country.
Tarragô, during the meeting, said defense is one of the significant areas of cooperation between the Philippines and Brazil.
"He added that a high-level delegation from Brazil is slated to visit the Philippines within the year in line with the growing relations between the two nations. An invitation was also extended for the OIC, DND to visit Brazil," Andolong said.
Meanwhile, Faustino recalled the successful acquisition and delivery of six units of A-29B "Super Tucano" close-air support aircraft from Brazilian company Embraer, as part of the Revised Armed Forces of the Philippines Modernization Program.
"Both sides expressed their intent to further develop the bilateral defense cooperation through the conduct of pilot training, the establishment of a bilateral defense dialogue mechanism, and the conclusion of a framework to facilitate logistics and defense industry cooperation," Andolong added.
He also said both countries have agreed on the importance of discussions to identify the mutual defense concerns and highlighted that defense cooperation should be a two-way street. (PNA)