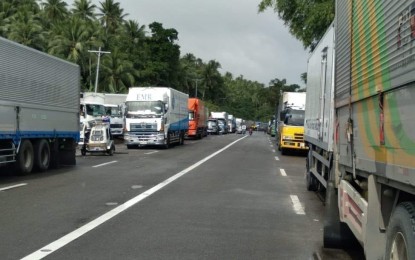 MANILA – Constraints in the logistics sector is one of the challenges that the country should address to attract more investors into the country and to develop local industries, Department of Trade and Industry (DTI) Secretary Alfredo Pascual said.
During the post-State of the Nation Address (SONA) Philippine economic briefing in Pasay City Tuesday, Pascual said the "fragmented" logistics sector has been one of the reasons for the high cost of transfer of goods in the country.
"That will be addressed by PPP (public-private partnership) and other infrastructure projects that the government will implement, as well as organizing our logistics sector which is so fragmented at the moment," he said.
In his first SONA on Monday, President Ferdinand Marcos Jr. said he would pursue the infrastructure projects of the Duterte administration.
Pascual added he met with the industry group last week wherein they discussed how the government and private sector could further collaborate in addressing the challenges in the logistics sector.
"The objective is to reduce the cost of logistics," he said on the sidelines of the event.
Pascual said by reducing the logistics cost, producers as well as farmers will be able to earn more while consumers are paying less.
"I'm asking the industry to work it out. I mean, they know their business… just tell them what we want to happen and let them sort things out.That's how the government should be dealing with the private sector. You should not dictate but tell them the goal and we will cooperate in helping them achieve the goal," he said.
Aside from adding infrastructure, the DTI chief said the logistics sector should be streamlined to avoid duplication of processes, which include those in the national and local government levels. (PNA)