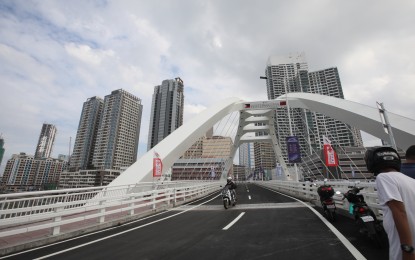 MANILA – The government will build several bridges in Metro Manila to further improve mobility, the Department of Public Works and Highways (DPWH) said Tuesday.
Secretary Manuel Bonoan said construction and development in the National Capital Region (NCR) will include "I think, five or six bridges, across the Pasig River."
"As far as the infrastructure program is concerned, we will continue with the construction of more bridges across Pasig River and Marikina River so that the mobility will be enhanced from north to south sectors because there are just but a few bridges connecting north and south sector," he said at the post-SONA (State of the Nation Address) Economic Briefing held at the Philippine International Convention Center in Pasay City.
Apart from bridges, the government is also looking at constructing more expressways "that would be leading toward the other areas of Metro Manila."
"Right now, I think there are several expressway projects that are in line. There's an expressway that is going to be developed in the eastern corridor of Metro Manila that will go through, Pasig, Cainta, and all the way to Bulacan," Bonoan said.
He said the extension of the South Luzon Expressway going to Lucena City and the Cavite-Laguna Expressway to Tagaytay City are underway.
Bonoan said President Ferdinand Marcos Jr. announced in his inaugural State of the Nation Address (SONA) on Monday that the "Build, Build, Build" (BBB) programs initiated by the Duterte administration will continue.
"I reiterate today (Tuesday) the marching order of the President during his SONA that under his administration, the infrastructure development program will be pursued relentlessly. We will continue what has been started under the BBB program of the past administration and must not only continued but whenever possible, be expanded," he said.
"As the President said, the infrastructure program will be very vital to support national government efforts to push for the revival of the economy which has slumped due to the Covid-19 pandemic. This is the foundation that we will build upon as the President pronounced we must keep the momentum and aspire to build better more and faster," he added. (PNA)