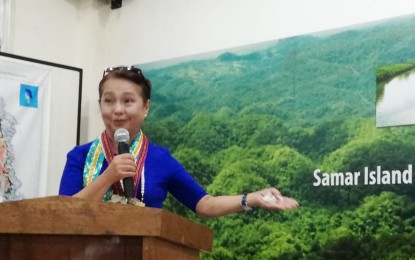 #PBBMSONA2022
MANILA -- Former President and Senior Deputy Speaker Gloria Macapagal Arroyo on Tuesday said President Ferdinand "Bongbong" Marcos Jr.'s first State of the Nation Address (SONA) was "very impressive" both in its content and delivery, as well as "appropriately comprehensive".
"It is appropriately comprehensive and provides a blueprint for a medium-term action plan that can be completed with the full cooperation of Congress and the continued support of the Filipino nation," Arroyo said in a statement.
Arroyo urged her fellow lawmakers to "stay united and dedicated" in supporting President Marcos' legislative agenda, which he outlined in his maiden SONA.
"The President outlined 19 priority bills that will impact greatly on the people's aspirations to return to the growth path and sustain the progress. It is the job of the 19th Congress to begin to implement the legislative task with focus, determination and momentum," Arroyo said.
She said she has filed three of the 19 priority bills mentioned by Marcos in his SONA – bill creating the Department of Water Resources; the bill establishing a comprehensive nuclear regulatory framework and creating the Philippine Nuclear Regulatory Commission, which can be a complementary bill of the President's proposal to amend the Electric Power Industry Reform Act (EPIRA); and the Reserve Officers' Training Corps (ROTC) bill making it mandatory for senior high school students.
According to Arroyo's office, the senior deputy speaker has requested Speaker Martin Romualdez to permit her to take a medical and wellness leave for seven session days, as she intends to travel to France and Singapore.
She would still be joining the sessions of Congress via Zoom while she is out of the country, her staff said.
Albay Rep. Joey Salceda said out of Marcos' priority bills, 10 had been approved on third and final reading by the House of Representatives in the 18th Congress.
Salceda said the House rules can be invoked to allow for the expediting of committee proceedings for more than half of the President's priority measures.
"In a meeting with Speaker Romualdez, I asked the House leadership to immediately constitute the Committee on Ways and Means so that we can already take up PBBM's priority fiscal measures," Salceda told reporters.
Among the bills approved on third reading by the previous Congress were National Government Rightsizing Program (HB 419); Package 3 of the tax reform (HB 54); Package 4 of tax reform; E-Government bill; Internet Transactions bill (HB 687); GUIDE (HB 685); Medical Reserve Corps; National Disease Prevention and Management; Virology Institute of the Philippines (HB 47); and Mandatory ROTC and national service training program (HB 639). (PNA)