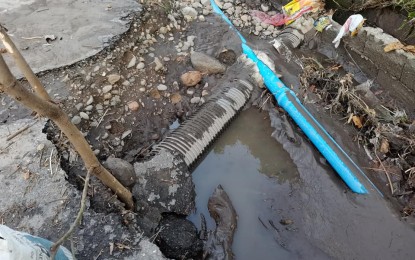 DUMAGUETE CITY – The Provincial Health Office (PHO) has reported a significant increase in the number of typhoid fever cases in Negros Oriental compared to last year, a health official reported on Thursday.
Assistant Provincial Health Officer Dr. Liland Estacion bared to the Philippine News Agency that a report from the Provincial Epidemiology and Surveillance Unit of the PHO showed a total of 279 cases with three deaths were reported from Jan. 1 to Aug. 20, this year.
She said the figure is 96 percent higher compared to the 142 cases and zero death during the same period last year.
"The typhoid bacteria can be passed on to others via the oral-fecal route and with the advent of the rainy season and flooding, we are seeing an increase in cases most likely due to contaminated water and food," Estacion said.
"Water reservoirs that are not properly constructed could be penetrated by floodwater that may be contaminated with human poop," she added in mixed English and Cebuano.
Estacion advised the public to boil their drinking water for around 15 minutes and to undertake preventive measures such as checking leaks in water pipes.
People can also buy water purification tablets or request for chlorine stock solution prepared by sanitary inspectors at health centers, she said.
Guihulngan City logged the highest number of typhoid cases at 75; followed by Bayawan City, 29; Ayungon and Dumaguete City, 22 each; Sta. Catalina, 17; Canlaon City, 16; Mabinay, 14; Tayasan, 12; and Vallehermoso, 11. The rest had 10 or fewer cases.
The three deaths were reported in Guihulngan City.
Meanwhile, the number of dengue cases in the province also continues to spike as health authorities scramble to contain the spread of the disease amid the resumption of face-to-face classes in public and private schools.
Estacion said the latest report received by her office showed a total of 1,270 cases with six deaths from Jan. 1 to Aug. 20, this year.
This is 165 percent higher than last year's figures of 480 cases and zero death for the same period, she noted.
"In the past many weeks, we noted an uphill climb in dengue cases and so we have to be pro-active in our anti-dengue measures as young people are the most affected by this viral infection," Estacion said in mixed English and Cebuano.
A report from the PHO showed the age of affected individuals ranged from less than one month to 81 years old, with the age group of 1-10 mostly affected at 11 percent of the total cases. The areas with the highest number of cases are Canlaon City with 244; Bayawan City, 148; Dumaguete City, 140; Guihulngan City, 111; Bais City, 66; Sibulan, 65; and Sta. Catalina 62. Other cities/municipalities had less than 50 or zero case.
No new deaths were reported based on the latest PHO report.
Estacion called on the schools, parents, and teachers to be pro-active in undertaking measures that would protect the students from contracting the disease especially during this "epidemic year", a three-year cycle that is expected to manifest higher incidence of dengue cases. (PNA)