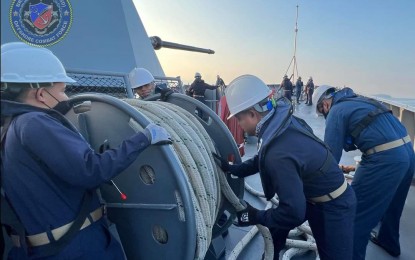 MANILA – The Philippine Navy's (PN) first missile frigate, BRP Jose Rizal (FF-150), is certified ready to perform naval missions after undergoing a three-day operational readiness evaluation (ORE) in Subic Bay, Zambales last week.
The annual ORE, held on Aug. 24-26, determines the state of preparedness and effectiveness in performing its mission based on available equipment and material inventory and the readiness of its crew.
The evaluation was facilitated by the ORE Team composed of 11 fleet operational readiness training and evaluation group (FORTEG) headed by its director Lt. Commander Jonathan Layno.
"During the three-day ORE period, the Director FORTEG and its team members were impressed and satisfied with the skills and performance of the crew, especially on the new evolutions showcased such as the replenishment-at-sea, NBC attack, and general quarters with multi-threat attacks. Through this test, the ORE team handed over its final score with a passing mark thereby certifying the ship's readiness in performing naval missions," a Facebook post of its official page read.
The evaluation covers the refresher training for the crew, "trainer-to-trainer" talks between the ORE team and the integrated training team of the ship, and the evaluation of shipboard evolutions.
The ship continuously develops its systems and procedures to fully optimize its modern capabilities and the skill of its crew through continuous training and crafting of responsive warfighting procedures that compliments its capabilities.
The BRP Jose Rizal and its sister ship, the BRP Antonio Luna (FF-151), are modern warships capable of surface, sub-surface, air, and electronic warfare using state-of-the-art electronic sensors, long-range missiles, acoustic guided torpedoes and an embarked anti-submarine helicopter.
The BRP Jose Rizal was delivered to the Philippines in May 2020 and commissioned in July of the same year while the BRP Antonio Luna was commissioned on March 19, 2021.
The contract for the two ships was placed at PHP16 billion with another PHP2 billion for weapon systems and munitions. (PNA)