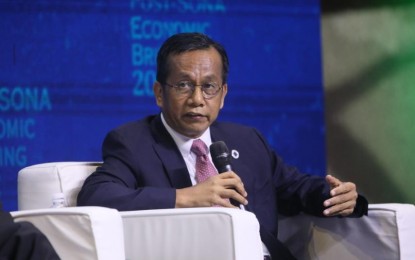 MANILA – The Cabinet-level Committee on the Build-Operate-Transfer (BOT) Implementing Rules and Regulations (IRR) has approved the proposed amendments to the 2022 IRR of the BOT Law during its meeting held on Sept. 15.
During the meeting presided over by National Economic and Development Authority (NEDA) Secretary Arsenio Balisacan, members of the BOT IRR Committee deliberated on each of the proposed amendments to determine and ensure the viability of public-private partnership (PPP) projects and their contribution to the government's goals.
"We have to ensure that the amendments will address stakeholder concerns on financial viability and bankability of PPP projects. Likewise, we need to make sure that ambiguous provisions are revised, as these are risky for the government, given that they can cause delays in the processing and implementation of PPP projects. Lastly, these amendments should be socially beneficial to all parties," Balisacan said in a statement Friday.
The Committee also took into consideration the inputs solicited from stakeholders during the face-to-face public consultation held on Sept. 13.
The BOT IRR Committee acknowledged receipt of 91 comments during the public consultation proper and 213 written comments in total.
Balisacan underscored the importance of approving the proposed amendments, as the IRR would bolster the government's capabilities in addressing pressing issues such as inflation, poverty, and prolonged socioeconomic scarring from coronavirus disease 2019 (Covid-19) through PPPs.
"The amendments to the IRR would serve to further leverage PPPs in spurring innovation and aiding in the prudent allocation of the government's resources. This is especially relevant today, given our tight fiscal position. With more resources freed up, the government can increase its spending on priorities such as health, education, and social protection. Meanwhile, through PPPs, the private sector could serve as a steadfast partner in areas such as infrastructure development, where there is strong market demand. Through this cooperation, we move forward with confidence towards achieving our post-pandemic socioeconomic goals," he added.
Following the Committee's approval, the revised BOT Law IRR will undergo final revisions before being uploaded to the websites of the Committee members by Sept. 19, 2022.
The Committee targets the publication of the revised IRR by Sept. 26, and for the measure to take effect on Oct. 11, 2022.
The BOT IRR Committee is chaired by the NEDA and co-chaired by the Department of Finance.
Committee members include the Departments of Agriculture, Energy, Environment and Natural Resources, Information and Communications Technology, the Interior and Local Government, Public Works and Highways, Trade and Industry, and Transportation, as well as the Public-Private Partnership (PPP) Center which serves as member of and secretariat to the Committee. (PR)