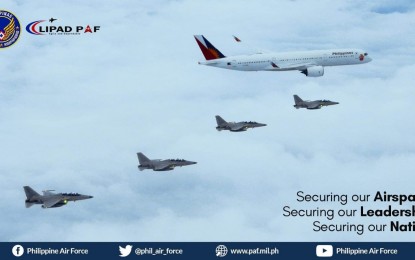 MANILA – The Philippine Air Force (PAF) said five of its South Korean-made FA-50PHs light jet fighters escorted President Ferdinand Marcos Jr.'s aircraft as it entered the country's airspace Sunday morning.
Col. Ma. Consuelo Castillo, PAF spokesperson, said the interception point "was approximately 50 nautical miles northwest off the coast of Bolinao, Pangasinan" and it took place around 5:30 a.m.
"Then the Presidential flight was safely led into national airspace. Actual escort lasted for a few minutes only and most flight time were spent in monitoring of waters and flight proficiency training," she said in a statement.
Aside from the flight escort missions, Castillo said the five FA-50PHs were also tasked for maritime patrol and pilot proficiency training.
Lt. Gen. Connor Anthony Canlas Sr., PAF commanding general, and Maj. Gen. Augustine Malinit, Air Defense Command chief, were among the pilots aboard the five FA-50PHs.
The FA-50PH is considered the PAF's premier air combat aircraft and is used extensively for air defense, attack, and other support missions.
"Fighter escorting, more than just a tradition, is an essential standard operating procedure to clear and secure our air space for the arrival and departure of the President of the Republic and other visiting heads of state," Castillo said, adding it is similarly practiced in other countries for added security of their Presidential flights.
Two FA-50PHs escorted the Chief Executive's flight up to 200 nautical miles when it departed for New York for the 77th United Nations General Assembly on September 18.
The FA-50PHs had their baptism of fire in the Marawi City campaign where it was heavily used for close air support mission roles along with the venerable OV-10 "Bronco" turbo-prop attack aircraft, SF-260 light bombers, and various attack helicopters of the PAF.
The aircraft has a top speed of Mach 1.5 or one and a half times the speed of sound and is capable of being fitted with air-to-air missiles, including the AIM-9 "Sidewinder" air-to-air and heat-seeking missiles aside from light automatic cannons and bombs.
A total of 12 FA-50s were acquired from the Korea Aerospace Industries for PHP18.9 billion. The deliveries commenced in November 2015 and were completed May 2017. (PNA)