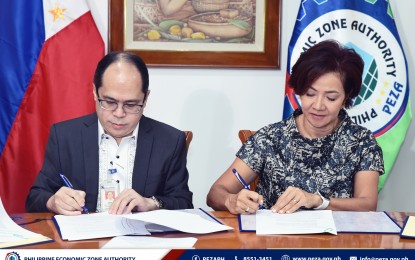 MANILA – The Philippine Economic Zone Authority (PEZA) has partnered with the Upgrade Energy Philippines, Inc. (UGEP) to develop solar energy projects within economic zones.
In a statement Thursday, the investment promotion agency said PEZA officer-in-charge Tereso Panga and UGEP president and chief executive officer Ruth Yu-Owen signed a memorandum of understanding (MOU) last Sept. 22 to put up solar energy projects inside PEZA zones.
"PEZA welcomes partnerships like this which promote the goal of environment-friendly industrialization," Panga said.
The first phase of the partnership involves the conduct of feasibility studies in Cavite Economic Zone (CEZ) and Baguio City Economic Zones (BCEZ) to determine the viability of putting up solar projects in these ecozones.
This, as UGEP aims to build a 10-megawatt solar project for CEZ and BCEZ to generate and sell solar power to the end consumers through the distribution utilities inside the ecozones.
"Promoting the use of renewable energy is extremely paramount in our country so we can save billions of pesos in energy and electricity consumption, generate more jobs and at the same time, reduce our country's share of carbon emissions, therefore, fighting the adverse effects of the global climate change," Panga added.
On the other hand, PEZA will be providing necessary assistance to UGEP for the conduct of the studies, identification of land for the solar projects, and the registration of its projects under PEZA pursuant to the Corporate Recovery and Tax Incentives for Enterprises (CREATE) Law and the Renewable Energy Act of 2008.
"These efforts will also contribute to the country's overall efforts to attaining our pledge to move ahead with urgency and cut greenhouse gas emissions through localized climate change interventions and transition from coal to clean energy. Let us also do our part in implementing a collective approach to both revive the economy and at the same time protect our environment," Panga said. (PNA)