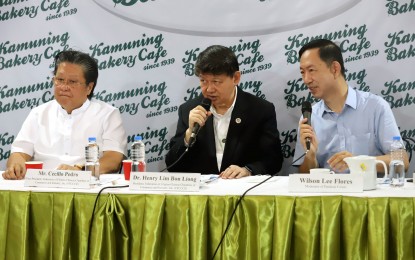 MANILA — Filipino Chinese Chambers of Commerce and Industry, Inc. (FFCCII) vice president Cecilio Pedro said Wednesday their group's two-hour dialogue with President Ferdinand "Bongbong" Marcos Jr. has centered on issues of power and ease of doing business in the country.
During the Pandesal Forum in Quezon City, Pedro said the Filipino and Chinese business leaders' meeting with Marcos last Sept. 30 solidified the business group's support to the initiatives of the government to usher the economy into the new normal.
"My impression is the President is serious in helping the business sector to continue their business in the Philippines. He wants more expansion from the business sector, especially from the local investors first," he said in mixed English and Filipino.
Pedro said Marcos believes that boosting the confidence of local businesses in expanding in the country will help in attracting foreign investors to put up their operations here.
"Confidence of the local businessmen will enhance investments from foreign companies… He (Marcos) wants the local businessmen to show first the interest since the pandemic is about to end as we move to the new normal, and the new normal entails investments from the business sector," he added.
Pedro said Marcos told their group that resolving the power situation in the country is a priority of his administration.
Earlier, the administration expressed that it aims to expand and harness indigenous energy resources to achieve the long-term goal of energy security, affordable power rates, and accessible clean energy for Filipinos.
For the part of the business sector, Pedro said the FFCCII told Marcos the need to further improve doing business in the country.
Pedro said the business group recommended to the Chief Executive that the country should have a one-stop shop for all the requirements and processes in starting a business in the country.
"In order for the investors to set up here, we need to eliminate red tape," he added.
Pedro said the Philippines should look into the best practices of neighboring countries like Thailand, Vietnam, Indonesia, and China wherein there is a one-stop shop for investors that will help them in setting up their business in the country.
The Philippine Economic Zone Authority offers such service. However, the business should be export-oriented and should be located within an economic zone.
Earlier, Marcos thanked the Filipino-Chinese business group for heeding the call to work with his administration in accelerating the country's recovery from the coronavirus disease 2019 pandemic.
"We are pleased they have eagerly responded to our call for a whole-of-nation approach to addressing this immense and arduous task," Marcos said. (PNA)