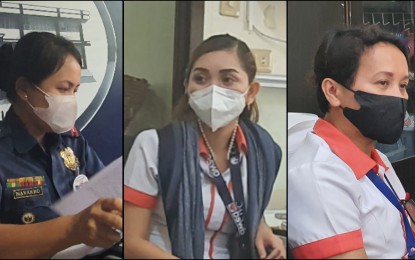 Last of 2 parts

(Editor's note: Names of the victims are changed or withheld to protect their identities)

CAGAYAN DE ORO CITY – In September 2016, police arrested 36-year-old Vilma and rescued four children.
Investigations from joint law enforcement teams in the Philippines and Australia found that the four children were her own and that she forced them to engage in what authorities refer to as Online Sexual Abuse and Exploitation of Children (OSAEC).
Through the use of social media and email, Vilma trafficked her children, aged 7 to 11, to foreigners living in Germany, Australia, and the United States.
In exchange for the lewd images and videos, she received payment from foreign clients through money transfer services.
Had the Australian government did not arrest its own citizen who purchased one of Vilma's images, investigators would not be able to trace the activities made by the mother of four in Central Visayas.
In 2018, Vilma was sentenced to a maximum of 20 years imprisonment while her four children received therapy and social services from the Department of Social Welfare and Development (DSWD).
The case of Vilma is one of the report highlights provided by the non-government organization International Justice Mission (IJM) covering OSAEC cases from 2010 to 2017.
The Philippine study was in partnership with the United States Department of State Office to Monitor and Combat Trafficking in Persons and the Philippine Inter-Agency Council Against Trafficking.
In the report, IJM reported that there are 381 victims in the Philippines investigated by government authorities from 2011; most of the victims are females comprising, 86 percent, and males with 14 percent.
The report also showed the median age of victims as 11 years old, but many are in the bracket of 13 to 15.
IJM found that in the country, OSAEC is usually a family-based crime, where 42 percent of the said cases were perpetrated by relatives, and 41 percent were biological parents.
From 2010 to 2015, the Philippines reported below 20 cases of OSAEC but in 2017, it jumped to 43 cases.
Voltaire Santillan, a media relations officer for IJM, said another report is ongoing covering the years 2018-2024 because casework was done every seven years.

Trafficking, OSAEC

DSWD-10 Social Worker Grace Dael said Northern Mindanao still record high cases of trafficking where both adults and children are victims.

Agency records Dael provided showed that while forced labor topped in 2020 at 76.7 percent, trafficking in the form of OSAEC was prevalent in 2019 and 2021, at 42.4 and 44 percent, respectively.

As of November 2021, OSAEC-related violations stood at 36 cases in Region 10, comprising 43.9 percent of all trafficking incidents reported.

Other forms of trafficking of the said year include forced labor, at 25.6 percent with 21 cases; other forms of sexual exploitation at 18.2 percent with 15 cases, illegal recruitment at 2.4 percent with two cases; and children in armed conflict at 9.7 percent with eight cases.

In the same year period, most OSAEC victims are children at 72.2 percent.

Janine Mae Guibone, a DSWD-10 social worker who works with agency data, said younger children tend to use social media and engage in unsupervised online engagements.

"The same goes for sexual exploitation wherein 66.66 percent of the victims are children who have been rescued from pimps or sex slavery," Guibone said.

Lastly, from January to November 2021, the majority of the victims-survivors rescued or referred in DSWD-10 were females at 67 percent while 33 percent were males.

Guibone said a more gender-sensitive and responsive approach is needed in handling human trafficking cases.

Meanwhile, a recent case documented by IJM in Northern Mindanao was the conviction of a female sex trafficker for 23 years, handed down by the Regional Trial Court in Iligan City.

The woman pleaded guilty to the abuse of six females -- four of them adults, and some were relatives -- using online platforms to perform sexual acts.

In a ruling issued on Sept. 21 this year, the court said the woman violated RA 9208 or the Anti-Trafficking in Persons Act of 2003, RA 7610 or the Special Protection of Children Against Abuse, Exploitation and Discrimination Act, and RA 9775 or the Anti-Child Pornography Act of 2009 concerning RA10175 or the Cybercrime Prevention Act of 2012.

Recovery, role of LGUs

Maj. Joann Navarro, spokesperson of the Police Regional Office-10, underscored the importance of helping victims of OSAEC and other forms of abuse recover.

An essential requirement, she said, is the protection of the victims' identities, especially if the victims were minors.

"Even in the media, we have to protect their identities and even the places they live in because if people will know, it's traumatic for the victims," Navarro said.

Navarro also said even names of relatives were withheld, more so in cases where perpetrators were also related to the victims.

Daisy Ramos, DSWD-10 sectoral unit chief, said the involvement of local government units (LGUs) remains important, especially in providing interventions and case management not only in cases of trafficking but also in terms of protecting children from other forms of abuse.

Ramos said Iligan City has the most number of trafficking cases in the region with 76, while this city and the town of Sultan Naga Dimaporo in Lanao del Norte each have six recent cases.

"There's a (local government) facility (for trafficking victims and other forms of abuse) in Iligan and they (the management and staff) were trained by NGOs," Ramos said.

Dael said NGOs such as IJM and World Vision are also working together with Iligan LGU.

"Last October 7, we were told to work with IJM and World Vision in case management because they (Iligan LGU) have an overwhelming case of trafficking in persons," she added.

Early this week, Iligan City Social Welfare and Development officer-in-charge Armien Alorro said IJM has selected the LGU as a pilot area for assessment and restoration programs in areas where OSAEC cases were prevalent.

Iligan City Councilor Queenie Belmonte said local policies may also have to be revisited to better respond to the rising OSAEC cases.

The city's Child Code of 2011, she said, may need amendments to cover prohibited acts online.

Meanwhile, in this city, Councilor Joyleen Mercedes Balaba earlier assured the city government has been "always inclusive" in protecting the safety and welfare of women and children in safeguarding their rights.

"We try to establish a mechanism in handling cases of abuse and exploitation down from enforcement with the Philippine National Police," Balaba said during a multidisciplinary stakeholders' training in July organized by World Vision.

Community-based protection

City Administrator Roy Hilario Raagas also said the local government has laid out plans to capacitate all 80 barangays to a one-day forum on the prevention of child labor abuse and OSAEC.

"Barangay Gusa chairman Marlo Tabac, being the vice chairman of the Liga Ng Mga Barangay Federation in Cagayan de Oro, will propose that we replicate the forum on child labor abuse and online sexual exploitation of minors to raise awareness among our barangay officials," Raagas said late last month.

Raagas said city hall department managers attended a recent stakeholders summit for inter-agency councils on the prevention of child labor abuse and online sexual exploitation of minors in Manila, organized by World Vision and the US Department of Labor.

He said this city and Quezon City are two pilot areas for the project.

Moving forward

Despite the harrowing past, Selva had experienced from her employers two decades ago, she made peace with them over time.

"Five years after they were jailed, I have forgiven them. I pitied one of them because he had a wife and their children were young," she said.

The father of the perpetrators has died already, and the other son became a church pastor.

Returning their gratitude to those who took care of her, she decided to help one of the DSWD-10 care facilities where she became one of the wards for a time.

The last time she visited was in September when she substituted to be a houseparent for girls who are victims of sexual abuse.

For her, helping other victims was a form of catharsis and a brave leap of faith as she moves forward with life. (PNA)