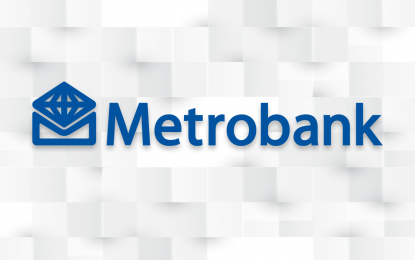 MANILA – Growth in loans and interest income boosted Metropolitan Bank & Trust Company's (Metrobank) net income in the third quarter of 2022 to PHP23.4 billion, up 45 percent year on year.
The bank said Thursday its earnings from July to September rose by 77 percent annually to PHP7.8 billion.

It said net interest income jumped by 10 percent to PHP62.1 billion while the net interest margin improved by 3.5 percent.
Total loans rose by 12 percent year on year to PHP1.4 trillion due mainly to the 15 percent expansion in corporate and commercial loans and the 22 percent rise in credit card receivables.
During the same period, non-interest income remains stable due to the 15 percent increase in charges.
The operating cost amounted to PHP44.5 billion, with the cost-to-income ratio improved to 54.4 percent from last year's 59 percent.
Non-performing loans (NPLs) accounted for 2.1 percent of total loans, lower than the industry's rate of 3.6 percent in August, the bank said.
Metrobank president Fabian S. Dee traced these developments to the company's decision to "take on opportunities as the economy reopened while keeping our balance sheet strong and improving efficiency level."
"Our position of strength and substantial reserves will enable us to continue supporting our customers as they navigate the impact of the global external headwinds," he added. (PNA)