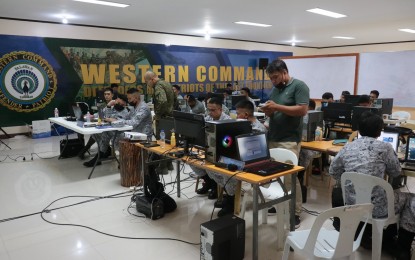 MANILA – The Western Command (Wescom) announced that it is beefing up its cyber defense capabilities through the two-week-long Cyber Defense Exercise (CYDEX) being held as part of the ongoing "DAGIT-PA" exercise.
"The CYDEX will enable our forces to maintain the integrity, confidentiality, and availability of our infrastructure and systems," Wescom chief Vice Adm. Alberto Carlos said in a statement Wednesday night.
He also added the ongoing exercise would allow their cyber personnel to be highly proficient in warfighting functions in the cyberspace domain.
Maj. Cherryl Tindog, Wescom spokesperson, said the CYDEX is being held at their training and transient facility at Camp General Artemio Ricarte, Puerto Princesa City.
She added that CYDEX aims to test, evaluate and capacitate Wescom and the different Armed Forces of the Philippines (AFP) cyber forces in cyberspace operations.
Tindog said Wescom personnel are training to monitor, detect, respond and recover from cyber-attacks, with the assistance of the AFP Cyber Group and Communications Center at the general headquarters in Camp Aguinaldo.
"DAGIT-PA" stands for "Dagat, Langit at Lupa" and entails the participation of the three major services of the AFP -- the Navy, Air Force, and Army as employed in joint operations.
"The AJEX (AFP Joint Exercises) will also test and validate, and eventually enhance the interoperability of our joint forces and capabilities for various missions," Carlos earlier said.
This year's "DAGIT-PA" is the sixth iteration of the joint exercise unilaterally conducted by the AFP. Most of the events will be conducted in Wescom's joint operations area from Nov. 7 to 18.
There will be four major events that will highlight the exercise, namely: table top exercise (TTX), staff exercise (STAFFEX), CYDEX, and field training exercises (FTX) in various locations in Palawan.
With the exception of the FTX, all of the training events will be conducted in Camp General Artemio Ricarte in Puerto Princesa. FTX events are the amphibious landing exercise scheduled on Nov. 14 in Brooke's Point, and the combined arms and littoral live-fire exercise to be held on Nov. 15 in Rizal, both in Palawan.
Meanwhile, Tindog also said the Navy transport ship BRP Bacolod City (LS-550) arrived at the 2Lt Lagare Pier in Puerto Princesa City last Nov. 9. The ship was carrying personnel and assets of the 3rd Infantry Division and 15th Infantry Battalion who are participating in "DAGIT-PA".
"Wescom cordially welcomes our gallant Army comrades to the Western Frontier all the way from Roxas City, Capiz," Carlos said.
The BRP Bacolod City provided sealift support to the Army components who will be participating in the FTX events in Punta Baja, Rizal Palawan such as the combined arms and littoral live-fire exercise, urban warfare, and close-quarter combat. (PNA)