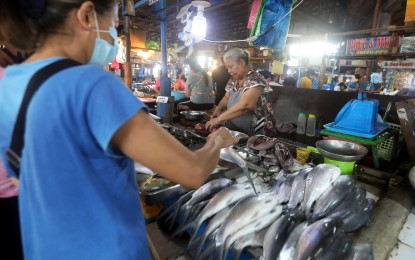 MANILA – Socioeconomic Planning Secretary Arsenio Balisacan has reiterated that the government's top priority is food security while guarding Filipinos from faster increases in prices of goods and services due to external risks and impacts of the recent calamities.
Filipinos still face the challenges of faster inflation rate despite the 7.6-percent gross domestic product growth in July to September this year.
For Redge Nicolas, 38, an information technology consultant, economic growth can be felt if Filipinos' earnings can still keep up with the recent inflation.
"As a middle-class citizen, sadly, I cannot say that I am experiencing the increase in economic growth due to subsequent price increases in key commodities like meat, vegetables, electricity and gas," Nicolas told the Philippine News Agency.
The Philippine Statistics Authority reported earlier that inflation in October was the highest since December 2008 at 7.7 percent.
"My earnings are not proportionate with the price increases during the past months," Nicolas added.
Gov't policies
Balisacan, who is also the National Economic and Development Authority chief, said the Marcos administration's top priority is to ensure that there is an adequate food supply in the domestic market.
When supplies are enough in the domestic market, these shield consumers from volatile price movements.
"I want to underscore that our nation still faces a considerable burden in the form of high inflation due to heightened external risks and the brunt of recent typhoons," Balisacan said in a press conference Thursday.
He said the government is eyeing to extend Executive Order (EO) 171, signed by former President Rodrigo Duterte, which temporarily modify import duties of pork meat, rice, corn, and coal.
The EO, signed on May 21, 2022, is effective only until Dec. 31 this year.
"We are also considering the extension of Executive Order No. 171, which significantly reduces tariffs on rice, pork, and corn, thereby enhancing food security while food prices remain elevated," Balisacan said.
But the country's chief economist said the more robust solution to food security challenges is boosting domestic agricultural production.
"We will do this through more investments in the food value chain and research and development to enhance farm productivity and improve the efficiency of postharvest processes. Getting (the) government to facilitate private investments in marketing infrastructure, including storage, transport, and logistics, is crucial to achieving durable food security," he added.
Balisacan said the government also vowed to implement climate-adaptive technologies to sustain agricultural productivity and resilience.
Providing cash transfers, fuel discounts, and other targeted assistance should also be continued, he said.
"We want to reinvigorate job creation and reduce poverty by guiding the economy toward a high-growth path and developing a resilient, inclusive, and prosperous society," Balisacan said.
He added legal policies are in place, such as the revised implementing rules and regulations of the Build-Operate-Transfer Law, amendments to the Public Service Act, Foreign Investments Act, Retail Trade Liberalization Act, and the Corporate Recovery and Tax Incentives for Enterprises Law, that will boost the confidence of both foreign and local enterprises to invest here. (PNA)