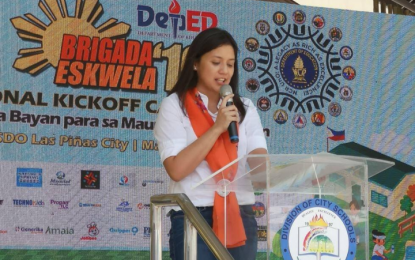 MANILA – Had it not been for the heroism of a determined lawmaker, tens of thousands of Las Piñas City folks could have succumbed to the coronavirus disease 2019 (2019) Covid-19 pandemic.
Deputy Speaker and Las Piñas City Representative Camille Villar saved many of her constituents when she established in mid-2021 the "May Bahay sa Bakuna", a vaccine incentives program.
Primarily based on her contribution through this program, Villar was named as the Government Hero of the Year by the prestigious Stevie Awards for Women in Business in awarding ceremonies held at the Caesar's Palace in Las Vegas, USA last Nov. 11.
Villar was honored under the Covid-19 response category for her remarkable work during the Covid-19 pandemic, and as such, the Stevie Award judges have determined that the Gold Stevie Award be awarded to her.
"It is truly an honor to be recognized by Stevie Awards for our work particularly in our fight against Covkd-19. I am grateful to the board of judges for acknowledging the vaccine incentives program that we established called May Bahay sa Bakuna to boost the vaccine uptake of our constituents in Las Pinas," Villar said after receiving news of the award.
Villar's May Bahay sa Bakuna program helped encourage the once hesitant residents of Las Pinas to get vaccinated against Covid, in exchange of entries to raffle bonanza that rewards lucky winners of non-monetary benefits which included grocery items, motorcycles and a brand new house and lot package.
The "Government of the Hero" category is given to "female government employees who have gone above and beyond the call of duty in 2020-22 to keep people safe and informed amid the pandemic".
"I share this award to our local government officials, city health officers as well as our constituents who continue to serve with passion despite the difficulties during the pandemic," she added.
The Stevie Awards for Women in Business are open to all organizations worldwide, and recognize the achievements of women executives, entrepreneurs, and the organizations they run. The judges include many of the world's most respected executives, entrepreneurs, innovators, and business educators.
More than 1,000 professionals worldwide participate in the Stevie Award judging process every year. (PNA)