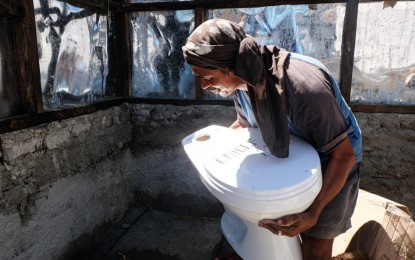 TACLOBAN CITY – About 24 percent of the over 1 million households in Eastern Visayas have no toilets based on the latest monitoring report of the Department of Health (DOH) regional office here.
DOH environmental and occupational health unit head Percival De Paz said the absence of toilets is alarming since it can cause food and water-borne diseases.
"If families have no toilets, they just dispose their excreta anywhere, which may contaminate our sources of water needed by households and industries," De Paz told the Philippine News Agency on Friday.
Based on the 2020 Field Health Services Information System, of the 1.04 million households in six provinces, some 251,299 have no access to basic sanitation facility as of the end of 2020.
The report also disclosed that of the 794,747 families with access to basic sanitation facility, only 14.25 percent have ventilated improved pit latrine, 6.25 percent use community sewerage systems, and 75.90 percent have septic tanks.
The DOH released the report in time for the observance of World Toilet Day 2022 on Nov. 19. This observance, held annually since 2013, celebrates toilets and raises awareness of the 3.6 billion people in the world living without access to safely managed sanitation.
Although majority of the population in Eastern Visayas region has toilets, De Paz said some are not safely managed since some families share the facility with other households and waste is safely disposed and treated.
"Poverty and political will of our local authorities are the two factors why some households have no toilers. It's a matter priority too since other families without toilets can afford to buy expensive mobile phones," De Paz added.
Melanie (not her real name), 35, of Poblacion District I in Burauen, Leyte said even if they want to construct toilet, her meager income could not afford it.
She lives in a makeshift house with her sick husband and three children. Since they have no toilet, they just dispose of feces and urine underground or in a swamp near their house.
"All my income from doing laundry goes to buying food and medicine. It's fine with us if we don't have toilet as long as we don't go hungry," Melanie said.
According to the United Nations International Children's Emergency Fund, around 10 million Filipino families do not have access to safely managed sanitation services. Of this number, some 24 million use limited unimproved toilets or none at all. (PNA)