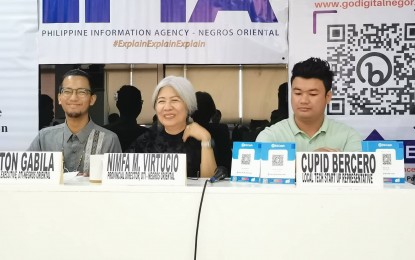 DUMAGUETE CITY – The Department of Trade and Industry (DTI) in Negros Oriental on Thursday called on micro, small, and medium enterprises (MSMEs) in the province to adapt to the new trend of doing business through digital platforms.
"This is the way to go now, and we don't want to see our MSMEs being left behind by other areas whose businesses have already seen a digital transformation," DTI - Negros Oriental Director Nimfa Virtucio said during a Kapihan sa PIA forum.
Virtucio said they coined DTI - Negros Oriental's "Go Digital 62XX" solely for MSMEs in the province to migrate from the traditional way of doing business to engaging their customers via online and other digital platforms.
She noted that while many of the MSMEs owned and operated by millennials and Gen Z individuals are quickly adapting to the trend, the "baby boomers" are reluctant to tread new ground for various reasons.
"Fear of the uncertain is one of the reasons why the older generations are wary of digital transformation, not to mention security concerns," she said. "We have to entice them to enroll in the 'Go Digital 62XX' so that they can penetrate new markets and link up with other businesses."
Virtucio said some MSMEs do not transact through digital payment applications, such as GCash or PayMaya, because they are afraid of losing their money via online transfers or perhaps are just set in their ways and reluctant to make a change.
"Change is very painful but they have to if they want to catch up with the prevailing trends," she said.
The "Go Digital 62XX" is getting the support of the local government units (LGU) in Negros Oriental who are encouraged to adopt the program at their level by adding the last two digits of their zip code, she said.
The zip code in this capital city is 6200 but the last two digits are left blank for the other LGUs in Negros Oriental that may want to have their brand, she added.
Anton Gabila, program executive, said "Go Digital 62XX" is aligned with the Philippine E-commerce roadmap to enable MSMEs "to establish their presence, engage with customers, and accept online payments in the digital space."
"We have seen that those who moved to the digital platform during the pandemic thrived better and survived while others had closed shop," Gabila said.
Under the program, DTI - Negros Oriental is conducting Google mapping of the provincial MSMEs at no cost, while also providing education on digital platforms, cashless transactions, and digital engagement, among others.
The target is to reach 2,400 MSMEs in the province through a widespread information and dissemination campaign through digital platforms, such as emails and text blasts, Gabila said. (PNA)