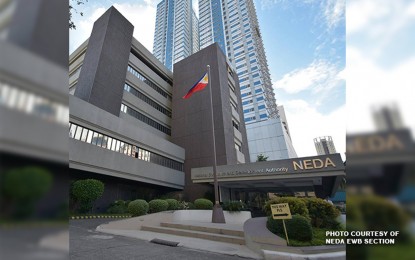 MANILA – The Philippine economy remains robust and will be able to sustain its growth momentum, the National Economic and Development Authority (NEDA) said.
In his presentation during the House Committee on Economic Affairs briefing on Monday, NEDA Secretary Arsenio Balisacan highlighted the focus of the upcoming Philippine Development Plan 2023-2028 for economic transformation.
"While our key economic indicators remain promising, socioeconomic scarring from the pandemic is expected to linger unless effectively addressed. The PDP 2023-2028, set for release later this month, is a plan for deep economic and social transformation, to reinvigorate job creation and accelerate poverty reduction by steering the economy back to its high-growth path," Balisacan said.
He said domestic consumption drove the economy's recovery and growth.
The further easing of mobility restrictions and resumption of face-to-face classes supported the growth of tourism, industry, services and other sectors severely affected by the pandemic, he said.
"For the first three quarters of 2022, the economy expanded by 7.7 percent. This further implies that the target growth of 6.5 to 7.5 percent this year is highly achievable," he added.
Meanwhile, Balisacan also affirmed that the Marcos administration is well aware of the economy's domestic and external risks.
These include factors that could disrupt food supply, elevated commodity and input prices due to geopolitical and trade tensions, the spread of infectious animal diseases, inclement weather and issues in global value chains, he said.
Elevated inflation, in particular, is expected to dampen the economy's faster recovery from the socioeconomic scars, in the form of exacerbated inequality and higher poverty, inflicted by the pandemic, he added.
"Addressing inflation and the constraints to rapid economic growth, job creation, and poverty reduction in the new normal requires a whole-of-government and whole-of-society approach," Balisacan said.
"The PDP offers an inclusive way forward, identifying the program priorities, strategies, and targets —as well as enabling policies and governance mechanisms— toward a matatag, maginhawa, at panatag na buhay for all Filipinos," he said.
The Philippine Development Plan 2023-2028 is expected to be presented to the President and members of the Cabinet in the third week of December. It will be ready for immediate implementation in 2023. (PR)