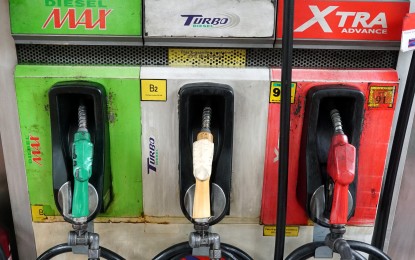 MANILA – Motorists and consumers will be greeted with big-time price rollbacks on petroleum products starting 12:01 a.m. Tuesday.
In separate advisories, Caltex, Cleanfuel, Petro Gazz, PTT Philippines, Seaoil and Shell said they will cut gasoline prices by PHP1.70 per liter and diesel prices by PHP3.40 per liter.
Caltex, Seaoil and Shell will also slash kerosene prices by PHP4.40 per liter.
This is the fourth straight week that oil companies have implemented price rollbacks despite the announcement of the Organization of Petroleum Exporting Countries and its allies (OPEC+) to stick to its existing plan of output cut until next year.
Both West Texas Intermediate and Brent crude oil are trading at USD70 level from selling at USD80-level Monday last week.
Dubai crude also fell to USD70-level last week since trading at USD80.10 per barrel last Dec. 2.
Domestic oil prices recorded net increases of PHP25.40 per liter for gasoline, PHP35 per liter for diesel and PHP29.60 per liter for kerosene.
Based on the energy department's monitoring last week, gasoline prices in Metro Manila range from PHP54 to PHP78.82 per liter, diesel prices from PHP61.08 to PHP78.85 per liter and kerosene from PHP74 to PHP84.15 per liter. (PNA)