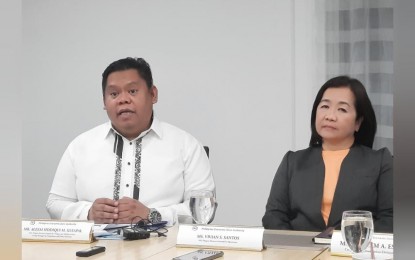 MANILA – The Philippine Economic Zone Authority (PEZA) reported that it approved PHP57.05 billion worth of investment pledges from January to November this year.
PEZA officer-in-charge deputy director general for administration and finance Aleem Siddiqui Guiapal said these pledges came from 181 projects registered with the investment promotion agency (IPA) for the past 11 months.
Both investment approvals and number of projects declined from the same period in 2021.
Investment approvals in PEZA from January to November 2021 amounted to PHP64.5 billion, while project registration reached 229 projects.
From January to October this year, employment in PEZA economic zones reached 1,850,842 while export revenues in ecozones amounted to USD54.24 billion.
"We're going to approve more projects," Guiapal said in a press conference Monday evening.
He said these projects that applied for government incentives are set to be approved during the executive committee meeting of PEZA on Dec. 15.
More investments from Japan
Guiapal added that more Japanese enterprises are expected to invest in the Philippines, especially through PEZA.
"The first country they prefer is the Philippines because of the GSP (Generalized Scheme of Preferences)," he said, pertaining to the country's trade preference benefits from the European Union's GSP+ and the United States' Generalized System of Preferences.
The PEZA official said this is also expected to be boosted by the planned visit of President Ferdinand R. Marcos Jr. to Japan being eyed early next year.
Among the investment leads of PEZA from Japan include biotechnology firm Junca Holdings, car seat manufacturer Shibutani Shoten Corp., apparel maker Marukame Trading Co. Ltd., information technology firm Valtes Co., Ltd., marine equipment manufacturer Nakashima Propeller Co., Ltd., ecozone logistics provider Inabata Philippines, Inc., and export manufacturing enterprise Showa Spring Co. Ltd.
PEZA OIC deputy director general for operations Vivian Santos mentioned that a business delegation from Okayama is set to visit the country in February 2023 to explore investment opportunities here.
Last Dec. 7 to 9, PEZA conducted an investment mission in Osaka and Okayama to attract small and medium enterprises (SMEs) from these areas to put up their businesses in the Philippines.
Santos said while manufacturing remains a priority of Japanese businesses, they are also diversifying into other activities such as putting up tourism ecozones and waste-to-energy treatment plants, among others.
"With Japan's SMEs as the lifeblood of this country's massive economy, comprising 99.7 percent of all businesses, we can take advantage of these SMEs by putting up operations in the Philippines, help complete the supply chain, empower our own SMEs, and boost the country's industrial ecosystem," PEZA OIC director general Tereso Panga said.
Japan remains the largest source of foreign investments in PEZA zones, accounting for 27 percent of the total approved investments from 1995 to 2022 with investments amounting to PHP746 billion. (PNA)