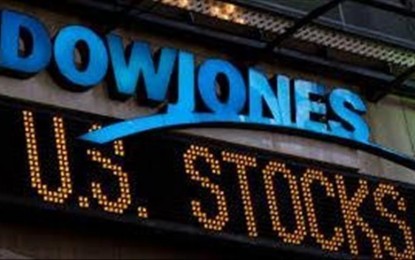 ISTANBUL – The Dow Jones Industrial Average soared more than 500 points to close higher Monday, a day before the release of key inflation figures that are closely watched by the Federal Reserve.
The blue-chip index jumped 528.58 points, or 1.58 percent, to finish at 34,005.04. It lost 2.8 percent last week, recording its worst weekly performance since September.
The S&P 500 added 56.18 points, or 1.43 percent, to close at 3,990.56. The Nasdaq was up 139.12 points, or 1.26 percent, to end the session at 11,143.74.
US consumer price data for November will be released Tuesday before the market opening, which could impact the Fed's decision to be announced after the bank's two-day meeting concludes Wednesday.
The central bank has raised its benchmark interest rate by a total of 375 basis points, or 3.75 percent since March to bring record inflation under control. Annual consumer inflation rose 7.7 percent in October, and the market expectation for November is to show a gain of 7.3 percent year-on-year.
The VIX volatility index, also known as the fear index, jumped 9.6 percent to 25.02. The 10-year US Treasury yield increased 1.2 percent to 3.611 percent.
The dollar index rose 0.2 percent to 105.01, while the euro added 0.1 percent to USD1.0537 against the greenback.
Precious metals changed course to give up earlier gains. The price of gold fell 1 percent to USD1,780 per ounce and silver lost 0.7 percent to USD23.30.
Crude oil prices were up around 3 percent. Global benchmark Brent crude was trading at USD78.29 per barrel for an increase of 2.9 percent. US benchmark West Texas Intermediate crude was around USD73.45, up 3.4 percent. (Anadolu)