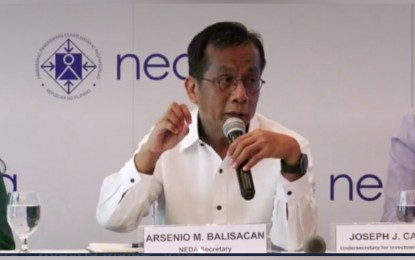 MANILA – National Economic and Development Authority (NEDA) Secretary Arsenio Balisacan said the medium-term Philippine Development Plan (PDP) 2023-2028 that President Ferdinand R. Marcos Jr. has approved will focus on "transformation agenda."
In a briefing Monday, Balisacan said the new PDP aims to address unemployment and provide quality jobs for Filipinos to lift them from poverty.
"Ultimately, the plan's goal is to reinvigorate job creation and accelerate poverty reduction by steering the economy back to its high growth path, and more importantly, effect economic transformation towards a prosperous, inclusive and resilient society," he said.
The PDP 2023-2028 is the country's second medium-term plan anchored on the government's long-term vision "AmbisyonNatin 2040".
"What makes this Philippine Development Plan different from the previous one is the transformation agenda which will be facilitated by six cross-cutting strategies," NEDA Assistant Secretary for Policy and Planning Sarah Lynne Daway-Ducanes said..
She said these transformation agenda strategies are digitalization; connectivity; leveraging the role of the private sector through public-private partnership; servicification, or building ecosystems around high-growth manufacturing clusters, information and communications technology, creative, tourism and logistics to move up the global value chain; technology and innovation; and bringing in local governments as an equal partner in the country's development agenda.
She added that the transformation agenda will help the Marcos administration achieve the target gross domestic product growth of 6.5 to 8 percent.
Meanwhile, Balisacan said the medium-term plan will focus not only on decreasing unemployment but also on providing quality and high-paying jobs to Filipinos to alleviate poverty.
The government targets unemployment rate at 4 to 5 percent by 2028.
"So, it's not just counting the number of jobs. More important for us, really is the quality of these jobs, because if you look at our unemployment rate, they are already very low. They are even comparable now to what you see in developed countries… But, still, poverty is quite extensive," he said.
He added that the PDP 2023-2028 will also address short-term challenges such as protecting people's purchasing power, mitigating the socioeconomic scarring in human capital and faster inflation.
"The timely adoption of the PDP as the country's development roadmap shall ensure the alignment of government resources, programs, projects and activities along with the identified strategies that will enable us to achieve our desired socioeconomic objectives. In line with our limited fiscal space, I cannot overemphasize how critical coordination is to obtain the maximum impact from our policies," Balisacan said.
Department of Labor and Employment (DOLE) Undersecretary Carmela Torres said the employment growth sectors identified under the PDP would support graduates so they can have jobs through employment facilitation.
"We will also intensify our Public Employment Service Offices to assist jobseekers and to align them with vacancies," she said at the DOLE year-end press conference in Manila, adding that DOLE will likewise strengthen its online job application system PhilJobNet. (With a report from Ferdinand Patinio/PNA)