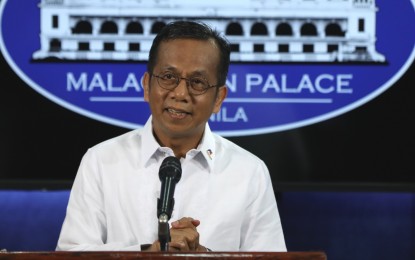 MANILA – National Economic and Development Authority (NEDA) Secretary Arsenio Balisacan said the country's gross domestic product (GDP) for 2022 is expected to surpass the government target, supported by a robust fourth quarter economic performance.
"The first three quarters, we are already reaching a 7.7 or 6. So, it quite exceeded already. And given the indication that we are seeing in the fourth quarter, it's likely going to exceed even the upper limit of that range. We expect to see robust growth in the fourth quarter," Balisacan said in a briefing Monday.
Economic performance from the September to December period is supported by strong remittances and domestic consumption amid the holidays,
The government eyes a GDP growth of 6.5 to 7.5 percent for 2022.
Balisacan said the GDP growth could be higher this year, but the faster inflation rate slowed down the growth.
Average inflation for the past 11 months was at 5.6 percent, still within the government's target of 5.8 percent for this year.
However, November inflation logged the fastest increase in prices of goods and services in 14 years at 8 percent.
The NEDA chief said the economic managers are closely monitoring internal and external risks that may affect the country's economic performance in the next quarters.
These risks may ease growth in the fourth quarter, Balisacan added.
"And moving for next year, we, of course, are aware of the global headwinds there, particularly the very likely recession for many advanced economies and the persistence of that problem with supply chain, particularly in relation to the ongoing war in Ukraine," he said.
In order to continue economic growth despite these headwinds, the country should diversify its sources of growth, he added.
"Instead of just looking at consumption, we need to be seeing more investments, we need to be seeing more trade sources of growth; and in the supply side instead of just seeing services, we need to see more manufacturing, more constructions, more utilities, even mining. We hope that would contribute strongly to medium-term growth. Agriculture of course is going to be also a driver to the extent that we can increase productivity there, and temper any pressures extended or exerted on food prices," Balisacan said. (PNA)