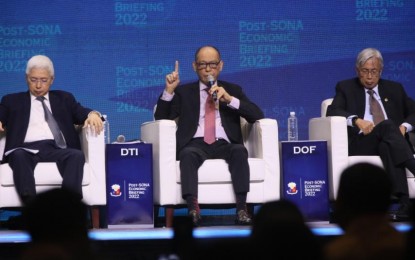 MANILA – Finance Secretary Benjamin Diokno discounted any link between the dividend relief for state-owned Development Bank of the Philippines (DBP) and the financial institution's possible placements in the proposed Maharlika Investment Fund (MIF).
This, after House Deputy Minority Leader France Castro on Monday said Executive Order (EO) 8, which reduces to zero DBP's dividend to the national government, "was issued to increase DBP's capital into the MIF" and may favor the proposed MIF rather than the national budget.
"The reduction in the remittance of dividend of LBP (Land Bank of the Philippines) and DBP have been made in the past, long before the MIF was conceived, in order to improve the ability of both government banks to deliver on their mandate and at the same time, maintain their financial standing," Diokno said in a statement on Monday.
Under Republic Act (RA) 7656, otherwise known as the Dividend Law, government-owned and controlled corporations (GOCCs) are mandated to remit to the national government at least 50 percent of their earnings annually.
"The President of the Philippines, however, may adjust the percentage of annual net earnings to be declared by a govenrment-owned and controlled corporation (GOCC) in the interest of the national economy and general welfare, according to RA 7565," the statement said.
EO 8, however, said the reduction in DBP's dividend is aimed at strengthening the financial institution's capital base in line with the Bangko Sentral ng Pilipinas' (BSP) regulations
It noted that DBP extends financing for various projects such as infrastructure and logistics facilities; micro, small and medium enterprises (MSMEs); environment and social services and community development.
It also said "the various programs of the DBP aim to address gaps in the agriculture sector and increase the resilience of the agricultural value chain in the pursuit of national food security." (PNA)