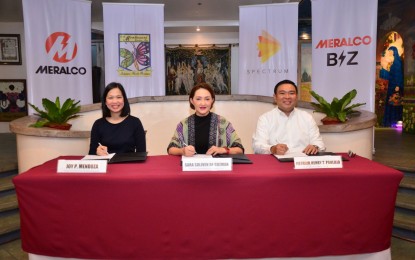 MANILA – Heeding the call of the government to shift to clean energy, OB Montessori Center is shifting to renewable energy by partnering with Spectrum for a 99-kilowatt peak (kWp) solar power project in Quezon City.
In a statement Monday, Spectrum, a unit of Manila Electric Company (Meralco), said its chief operations officer Patrick Henry Panlilio, Meralco head of Biz Partners Joy Mendoza and OB Montessori president and chief executive officer Sara Soliven de Guzman signed on Dec. 9 the deal for a 99-kWp solar rooftop project in OB Montessori's Fairview campus.
Spectrum said this project is expected to generate 132,000 kilowatt-hours of clean energy annually, translating to savings of nearly PHP900,000 every year.
It added that the installation of the solar rooftop will cut OB Montessori's carbon footprint by 94 tonnes, equivalent to planting over 4,300 trees or reducing around 232,200 miles in vehicle travel per year.
"Meralco, our parent company, and OB Montessori both share the steadfast commitment to sustainability and nation-building, making this partnership more promising. Through Spectrum's energy expertise and end-to-end solar solutions, OB Montessori is assured to receive not just excellent and reliable service but also the necessary strong support that they will need as they transition to clean energy to further advance their existing sustainability practices," Panlilio said.
With the partnership, OB Montessori joins other international and local clients that tapped Meralco and Spectrum for the installation of solar power facilities.
The Meralco unit offers tailor-fit solutions for industrial, commercial and residential customers that would like to shift to clean energy through solar power projects. (PNA)