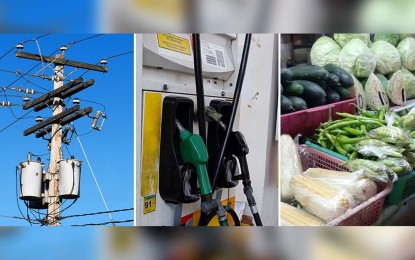 MANILA – The acceleration of the domestic rate of price increases to 8.1 percent in December 2022 is in line with the forecast that inflation could peak last month as risks remain on the upside, the Bangko Sentral ng Pilipinas (BSP) said Thursday.
The Philippine Statistics Authority (PSA) said the latest rate of increase of inflation figure is the fastest since November 2008 due mainly to the annual jumps in the food and energy prices.
Last December's inflation rate was within the central bank's 7.8 to 8.6 percent forecast for the month and brought the average inflation last year to 5.8 percent, way beyond the government's 2 to 4 percent target band.
"This is consistent with the assessment of elevated inflation could peak in December 2022 before decelerating in the succeeding months due to easing global oil and non-oil prices, negative base effects, and as the impact of BSP's cumulative policy rate adjustments work its way to the economy," the BSP said in a statement.
The BSP said although risks to inflation are on the upside this year, these "are seen to be broadly balanced in 2024."
It attributed the risks to the elevated global food prices due to higher fertilizer prices and supply chain constraints as well as trade restrictions in the domestic front.
The BSP also cited higher prices of fruit and vegetable due to the impact of weather disturbances, higher sugar prices, pending transport fare hike petitions, as well as potential wage hikes.
However, these factors are expected to be countered by the weaker-than-expected recovery of the global economy.
BSP said it "remains prepared to take all monetary policy action necessary to bring inflation back to a target-consistent path over the medium term."
"The BSP also continues to support the timely implementation of non-monetary government measures to mitigate the impact of persistent supply-side pressures on inflation," it added.
In a report, Rizal Commercial Banking Corporation (RCBC) chief economist Michael Ricafort attributed the possibility that inflation could have peaked last December to "greater odds due to the seasonal increase in demand/holiday spending during the month."
He said domestic inflation rate could still accelerate until "early February 2023 or shortly before the anniversary of the Russia-Ukraine (war) on February 24, 2022 that led to higher inflation base/denominator effects that could mathematically lead to slower year-on-year inflation in the coming months of 2023."
Ricafort forecasts the average inflation this year to slow to around 4.5 to 5.5 percent partly on the decline in global oil prices and other commodities.
"Inflation could go back to below (the) 4 percent upper end of the target as early as the latter part of 2023 but the average for 2023 could still be above the said inflation target," he added.
Ricafort forecasts inflation to go back within target level, or even below 3 percent, in 2024, which could possibly result in cuts in the central bank's key policy rates, which have been hiked by 350 basis points since May 2022. (PNA)