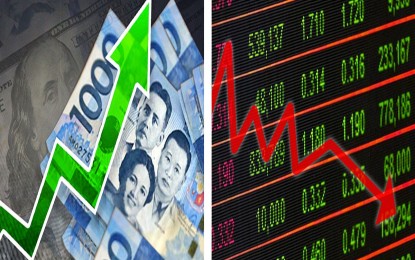 MANILA – Profit-taking snapped the three-day winning streak of the Philippine Stock Exchange index's (PSEi) on Friday but the peso gained against the greenback.

The main equities index shed by 1.38 percent, or 93.36 points, to 6,667.97 points.

All Shares trailed with a decline of 1.05 percent, or 37.38 points, to 3,513.07 points.

All the sectoral gauges also ended the week down, led by Industrial after it slipped by 1.84 percent.

It was followed by Holding Firms, 1.38 percent; Mining and Oil, 1.22 percent; Services, 1.20 percent; Property, 1.11 percent; and Financials, 0.63 percent.

Volume reached 7.15 billion shares amounting to PHP5.5 billion.

Decliners surpassed advancers at 124 to 69, while 41 shares were unchanged.

"Philippine shares finally had the first profit-taking session of the year on the back of strong US (United States) jobs data reported last night, fueling speculations for further rate hikes ahead," said Luis Limlingan, Regina Capital Development Corporation (RCDC) head of sales.

The ADP private payrolls report for December 2022 showed an increase of 235,000 jobs, higher than expectations.
The US Labor Department is scheduled to release later in the day the December 2022 non-farm payrolls report, which Limlingan said, is projected to increase by 200,000, lower than the 263,000 in the previous month.

"A better-than-expected report pointing to a resilient labor market could mean the Fed (Federal Reserve) has further to go in its efforts to tame inflation," he said.

Oil futures rose by 1.7 percent for Brent crude to USD 79.15 per barrel and by 1.8 percent to USD 74.13 per barrel for the West Texas Intermediate (WTI) "buoyed by data showing lower fuel inventories in the US."

On the other hand, the local currency improved against the US dollar after ending the week at 55.64 from day-ago's 55.75.

It opened the day sideways at 55.85 and traded between 55.57 and 55.89. The average level for the day stood at 55.681.

Volume reached USD1.05 billion, down from the previous session's USD 1.06 billion.

Rizal Commercial Banking Corporation (RCBC) chief economist Michael Ricafort said the peso closed to its lowest in the last two weeks or last Dec. 23 when it finished the trade at 55.15 due to correction.

In the first trading week of the year, the local unit corrected lower by 0.2 percent, he said, tracing this partly to the net gains of the PSEi which ended the year's first trading week down due to profit taking.

Ricafort said peso's next important support level is at 55.00 to a US dollar.

He forecasts the currency pair to trade between 55.40-55.90 next week, with the range for Monday projected between 55.55 to 55.75. (PNA)