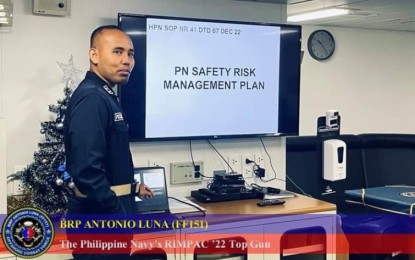 MANILA – Officers and crew members of missile frigate BRP Antonio Luna (FF-151) were given a risk management briefing last Jan. 6 to ensure that accidents will be prevented while the ship is on patrol.
The briefing was done by the frigate's safety officer Lt. (junior grade) Wilson Pioquinto, the BRP Antonio Luna said in a Facebook post on Monday.
"Last Friday, 06 January 2023, the ship's Safety Officer, Lt. (jg) Wilson Pioquinto PN, gave a lecture on PN (Philippine Navy) Risk Management Plan to remind the crew of the importance of safety in their daily work onboard," it added.
The PN Risk Management Plan comprises the so-called hazard identification, risk assessment and determining control (HIRADC), operational risk management (ORM) and job hazard management (JHM).
These are system processes and a tool plan useful for administrative and operational activities that address or preempt possible hazards and risks.
"It has been emphasized that safety of life at sea comes at the top of the priority list and that neglecting it can lead to unfathomable circumstances," it added.
The BRP Antonio Luna and its sister ship BRP Jose Rizal (FF-150) are modern warships capable of surface, sub-surface, air, and electronic warfare using state-of-the-art electronic sensors, long-range missiles, acoustic guided torpedoes, and embarked anti-submarine helicopters.
The BRP Jose Rizal was delivered to the Philippines in May 2020 and commissioned in July of the same year while the BRP Antonio Luna was commissioned on March 19, 2021.
The contract for the two ships was placed at PHP16 billion with another PHP2 billion for weapon systems and munitions. (PNA)