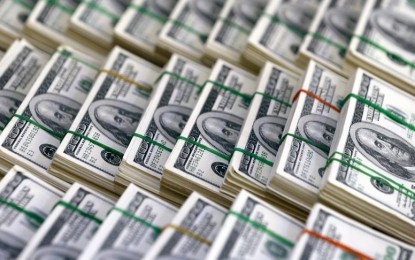 MANILA – The Philippine government on Monday announced its benchmark offering for a multi-year United States dollar-denominated Republic of the Philippine (ROP) bond, the second under the administration of President Ferdinand Marcos Jr.
Data released to journalists showed that proceeds of the 5.5-year, 10.5-year and 25-year bonds, with the latter a part of the government's sustainable financing framework, will be used to help boost financing for the various government programs as well as refinance previously issued sustainability bond.

Initial price guidance for the bond maturing in June 2028 is additional 155 basis points over the same tenor US Treasury, while pricing for the one maturing in 2033 is 195 percent higher than the same tenor Treasuries.

Initial pricing for the 25-year bond is at around 5.950 percent, the document showed.

Joint lead managers and joint bookrunners are BofA Securities, Deutsche Bank, Goldman Sachs, HSBC, Morgan Stanley, Standard Chartered Bank and UBS.

This is the second time the current administration tapped the international capital market to finance its programs after it borrowed USD2 billion worth of five-year, 10.5-year and 25-year dollar-denominated bond, with the latter an environmental, social and governance (ESG) bond, in October 2022.
The government has set a PHP2.207-trillion borrowing program for this year, PHP1.654 trillion will be sourced from domestic fund sources while PHP553.5 billion is accounted for by foreign borrowings. (PNA)