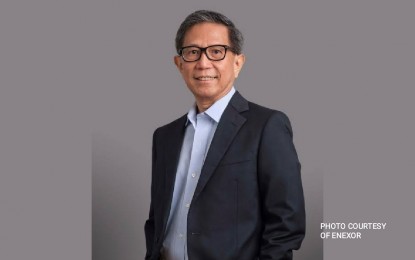 MANILA – Department of Energy (DOE) Secretary Raphael Lotilla has named the nine Chinese companies that committed to invest some USD13.76 billion in the Philippines following the recent visit of President Ferdinand R. Marcos Jr. to China.
In a press conference Monday, Lotilla said some of these Chinese companies are already operating in the Philippines and are eyeing for expansion, while some are big names in China's energy sector.
He said the firms' combined investments of USD13.76 billion will be in renewable energy (RE) development, energy storage systems and off-grid power supply systems.
"We are very pleased with the enthusiasm we have received from these Chinese companies during our roundtable meeting. They were upbeat with our policy reforms and directions on RE, especially on the opening of 100 percent foreign ownership on wind and solar projects," he added.
These Chinese companies that pledged to invest in the country include China Energy International Group Co. Ltd (Energy China), China Power International Development (CPID) Ltd., SPIC Guangxi Electric Power Co., Ltd (a subsidiary and a secondary unit of State Power Investment Corporation Limited or SPIC), China Machinery Engineering Corporation (CMEC), China General Nuclear Power Group (CGN), China Huadian Engineering Co., Ltd. (CHEC), China Tianying, Inc. (CNTY), Dajin Heavy Industry Co., Ltd (DHI), and Mingyang Smart Energy Group, Ltd.
Energy China has been operating throughout the country for more than two decades. In North Luzon in particular, its operation involves power generation, substation, transmission, cell site and fiber-to-home and data center projects.
SPIC, which has the largest installed capacity of wind power in Guangxi, is involved in the 230-kV substation engineering, procurement and construction (EPC) project in Navotas, the 500-kV substation EPC project in Pagbilao, the Taguig-Baras 500 kV overhead transmission line EPC, and the Abuyog 230-kV substation EPC project.
China's Mingyang is a world leader in providing renewable energy solution. It is also the world's sixth largest manufacturer of wind turbine generators with a cumulative installation of 45 gigawatt. Mingyang's technology is vital for the Philippines as the government targets more offshore wind power projects in the future.
Other Chinese companies that expressed investment commitments to the Philippines, which will also be important players in the offshore wind sector, are CGN and DHI.
CGN is China's pioneer in offshore wind development and largest single offshore wind power capacity. Globally, it has total capacity of 35,000 MW for wind power and 10,000 MW for solar.
CGN is also China's first nuclear power producer and the third biggest nuclear power producer in the world.
Listed firm DHI, on the other hand, is currently constructing a 300-MW wind power project.
CMEC is part of the world's top 500 companies, while CNTY belongs to Fortune China 500.
CPID and CHEC are both looking into establishing local entities to invest in renewable energy projects in the Philippines.
"I have now instructed our Renewable Energy Management Bureau (REMB) and Investment Promotions Office (IPO) to start communicating with them and provide the full support to hasten this particular cooperation between the Philippines and China," Lotilla added.
During the state visit of Marcos to China last week, the DOE chief met with leaders of various Chinese energy firms where he presented investment opportunities in the country's renewable energy sector.
He also highlighted that the Marcos administration is rolling out reforms to attract investments in renewable energy.
The Philippines targets renewable energy to have 35 percent share to the energy mix by 2030 and 50 percent by 2040. This means the country would need 52,000 MW of renewable energy by 2040.
Apart from these renewable energy targets, there is also a potential of 178,000 MW of offshore wind potential in the country. (PNA)